15 Digital Marketing Trends of 2019 You Must Take Advantage Of Now!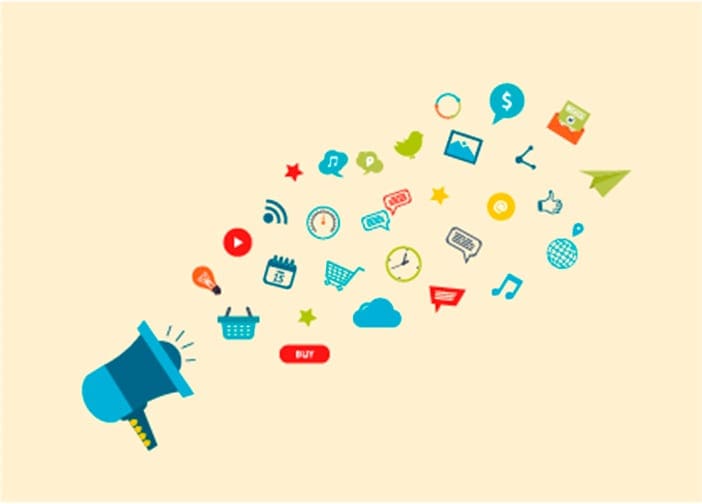 How many of us fast forward through ads on TV, or skip ads on other mediums when given the option? The correct answer is everyone. Despite all this, TV and print advertising are increasingly expensive and inefficient while digital marketing is rapidly evolving and becoming more cost efficient.
If your business does not tackle the digital marketing ecosystem in this era, you will fall behind. Stay ahead of the curve by considering these digital marketing trends that are predicted to shape the marketing world, and how you should act on them by 2019.
#1  Video Content On The Internet Will Continue To Overtake TV
Facebook's video viewership has doubled in the past year, and 75% of the world's mobile data traffic will be video related well after 2019. As your potential visitors' attention spans are getting shorter, they are browsing the web faster than ever before. Some of you who are reading this won't even make it to the end of this article. The limitations of text, emails, and tweets can often lead to misinterpretation. Over 53% of customers demand more video content from marketers.
Human beings gather information more effectively with the help of visual cues: reading facial expressions, body language, and tone of voice. Not only can video content keep viewers engaged, it also reduces the frustration users may have while navigating your website. Over 51% of marketing professionals site video content as the best method for ROI.
How to take advantage: People want to engage with video content not because they like ads, but because they like entertainment. Tell a story with your video content. Another option is to make "How to" videos. Your consumers are always eager to learn something.
#2  Voice Search Marketing Will Be The Norm
20% of searches across Android devices and Google Apps are voice operated. Voice search will continue to impact the marketing industry in many ways by 2019. Search queries will be longer and more specific, rather than based on limited keywords. With the use of Alexa, Siri, and Cortana, more specific questions are asked, therefore more specific answers are provided.
Without taking advantage of the most advanced technology, your business will quickly fall behind. Anticipate the types of questions people will ask when they search and write your content by asking (rhetorical, but you still should!) and answering those questions.
How to take advantage:  The best thing about this technology is that it is only in its infancy. There is so much room for it to grow, making this method even more essential to the marketplace in 2019. Incorporate this marketing tool into your business now and stay up to date with any innovations made in the near future.
#3  Focus Your Spending On Mobile
Considering that the majority of today's internet traffic stems from mobile devices, you are more likely reading this article on an iPhone than an iMac. Mobile ad spending has been increasing for the past 5 years in place of the desktop. By 2019, mobile spending is expected to rise 72%.
How to take advantage: Nowadays, eCommerce customers are more active on websites via smartphone or tablet instead of desktops. As competition in the market continues to rise, the patience of users begins to wear thin. Customers can be fickle and are more likely to turn away when encountering the slightest inconvenience. Don't give them that!
#4  Use Native Advertising Before Traditional Advertising
Native digital display advertising spending is increasing dramatically each year. The reason native advertising is said to be more useful than other methods by 2019 is that it is different. It is different because it is less annoying. Unless they are watching the Superbowl or E3, customers are extremely resistant to advertisements. The use of ad blocking software makes it all the more difficult for businesses to get noticed.
How to take advantage: If you want to reach new consumers, advertisements must blend more naturally with the content accompanied with it. The much-desired benefit of native advertising is that it is less obnoxious and interruptive. The key is to be less intrusive without being completely ignored. Part of the reason Instagram, Facebook and Snapchat are currently booming in their use of Stories.
Speaking of stories, let's head to our next trend!
#5  Sharing Consumer Stories Will Be Used More As Leverage For Native Advertising
Stories are a brief image or video displayed on news feeds that expire in 24 hours. They can be addictive, and they encourage dedicated fans to revisit your site daily. Stories have generated over 100 million daily active users (DAU) on Facebook and Instagram within the past year.
Stories are even forecast to become the dominant form of communication by 2019. Sponsored stories have a bigger chance of gathering followers than ever before, but only if the content is relevant to the user. By 2019, stories will change the way digital marketing works because it allows for more creative approaches.
How to take advantage: Promote stories for native advertisements that resonate with a wide audience for more exposure. Snapchat started out using stories as a marketing tool. However there is a reason Facebook and Instagram recently adopted this strategy. It will become the normal method for sharing polls by 2019.
#6  Immersive Technology Is Here To Stay
It's no mystery as to why the biggest tech giants such as Google, Sony, and Facebook are investing in immersive technology. Drone cameras, 360 video applications, 3D printing, as well as virtual and augmented reality programs are projected to increase in prevalence within the next few years. By 2019, AR, VR and mixed reality (MR) solutions will be evaluated and adopted in 20% of large-enterprise businesses.
How to take advantage: Immersive technology can be a passageway to what consumers want: personalization, convenience, and seamless transactions. Simply put, they're fun. They're fun because they literally place the customer at the center of attention. Take notes from Pokemon Go.
#7  Data Analysis And Production Will Continue To Rise By 2019
It is becoming easier for people to track data and act on it in less time. Data analytics can unearth great bits of knowledge on your consumer base. That way, you can better understand the type of customers your business attracts. You can then use this information to plan on how to expand your market, as well as retain your visitors.
How to take advantage: With data analytics, you can better understand customer's behavior, needs, and interests. Once your business figures this out you can easily use this to your advantage. Keeping close with your customers will help your business increase in revenue.
#8  Commitments To Protecting Privacy Is Becoming More Of A Concern For Consumers
The General Data Protection Regulation (GDPR) that started this year will further impact digital marketing by 2019. Customers can be hesitant towards clicking a link or making a purchase for fear of having their private information exposed.
How to take advantage – Your business should commit to making customers feel safe and secure, as this will no doubt mitigate regretful decisions and resentment towards your business. Have a clear privacy policy established amongst your customers and partake in yearly audits.
#9  Social Media Will Continue To Be More Integrated into Services
For companies to retain dominance by 2019, third-party applications are increasingly becoming more involved with social media services. More data is being shared with audiences through third-party apps because they create a more seamless experience. It is critical to understand social media behaviors and how they affect the market. The benefits of implementing social media in your business include:
The increase of brand recognition and loyalty.

The increase of conversion rates.

Has a high lead-to-conversion rate than outbound marketing.
How to take advantage: The first thing is — just have active social media accounts!
It is essential for CEOs to regularly post on social media. This will greatly increase trust amongst your consumer base as well as increase your company's reputation. The best ways to do this are writing blogs on your website or Linkedin, and regularly posting Tweets on your personal account.
#10  Micro-moment Marketing Is Changing How We Gather And Process Information
A micro-moment is the act of consulting a mobile device or smartphone to complete or goal or gather information. Your audience wants to learn, and you can provide the information they need by creating tutorial services for them.
93% of people who use a mobile device for research go on to make a purchase. More specifically, an overwhelming amount of millennials consult reviews on Youtube before deciding on a purchase. Take advantage of this, as micro moments are expected to be the ultimate passage for users to make purchases by 2019.
How to take advantage: For example, if you're a company that sells computers, you may want to provide your customers information they may want to learn such as "How to replace a motherboard." Users are always hungry for information, and there will never be a decrease in demand for it.
#11 Live Video Feed Will Continue To Rise In Popularity
Streaming is huge now. Live video accounts for over two-thirds of all internet traffic and is expected to jump to 82% by 2020. Customers are more likely to be invested in live footage. It's the reason "Breaking News" stories usually get the most views.
Since live video feed is more likely to be clicked on, it greatly boosts your companies awareness. It is an even more effective method of advertising in lieu of writing blogs. On Facebook alone, live videos have six-times the engagement as non-live videos and will continue to increase in rank by 2019 an onward. As of now, only 31% of social media marketers reported using live video, which is a 5% growth from last year.

How to take advantage: To attract potential leads, promote your live video with a catchy title or an appealing topic, then try to generate leads via teasers and prompts. Let your viewers know what is happening before it happens.
#12  Google Ads Will Depend On More Than Typed Keywords
Google advertising is eliminating all the hard work and expenses that come from print, radio, and television advertising. It is the best way of increasing the likelihood of your brand showing up in search results. It is also a widely known advertising technique that boosts recognition and speeds up the process of generating revenue.
By 2019, Google Ads is expected to more effectively persuade customers from each stage of the buying cycle. Targeting ads for maximum relevance will become more accurate than it is now.
How to take advantage: Not only does Google Ads raises awareness towards your company, but it provides more leeway for you to experiment with different marketing campaigns. Without Google Ads, that process would take longer. Take advantage of this by creating fresh campaigns, then analyze data gathered from it on a regular basis.
#13  Customer-Centric Marketing
For starting entrepreneurs, customer-centric marketing is a great method of finding your niche audience. This involves talking to your customers and bouncing ideas off each other. Having conversations with would-be customers can shed valuable insight on where to take your business. This marketing technique will also give you an overall better decision-making capacity.
How to take advantage: Communicate with your customers to identify any problems they may have, and try to solve them. With each new year, marketers gather more data to better understand the mindset of their customer. 2019 will be no different.
#14  Dark Social Is Growing Rapidly And Brands Are Having Difficulty Keeping Up
Although platforms like Google, Instagram, and Facebook are widely used for the same purposes, consumers are more likely to use dark social platforms to share more important and meaningful information. Dark Social data currently dominates the way we share information and is expected to continue rising by 2019. 84% of information shared are carried through dark social platforms.
How to take advantage: Familiarizing yourself with dark social data will allow your business to have a better idea on your customer's interests. But don't worry! Dark social data can easily be analyzed without invading privacy.
#15  Chatbots Will Become A Regular Feature On Social Media Channels
Chatbots can now meet the growing demands of customers in the digital era. In a study conducted by LivePerson, out of the 5,000 people surveyed, 89% of global consumers rate their overall perception of bots as "positive" or "neutral." Chatbots are also becoming increasingly cost-effective, especially for banking and healthcare services.
Part of the reason customers gravitate towards chatbots is that they are able to respond immediately and accurately. They can retain information without starting over with every new interaction. Because chatbots are constantly being updated and modified, speech recognition, as well as the information they provide, is expected to be more sophisticated by 2019.
How to take advantage: Experiment with how your customers respond to chatbots by offering them a more personalized experience. Find ways to make chatbots fun for your customers. Afterward, gather and analyze customer feedback and data in order to see how well chatbots work for your business.  
What Should You Do Now?
Digital Marketing trends will continue to change and adapt to recent innovations in technology. It is your responsibility as a business owner to do the same. As we become more familiar with AI, data gathering, and customer interaction, businesses will deliver better and faster, while becoming more in touch with how individuals respond to advertisements. Contact us to learn more about the digital marketing ecosystem and how it can help improve your business.