How to Use Upselling to Generate More Ecommerce Sales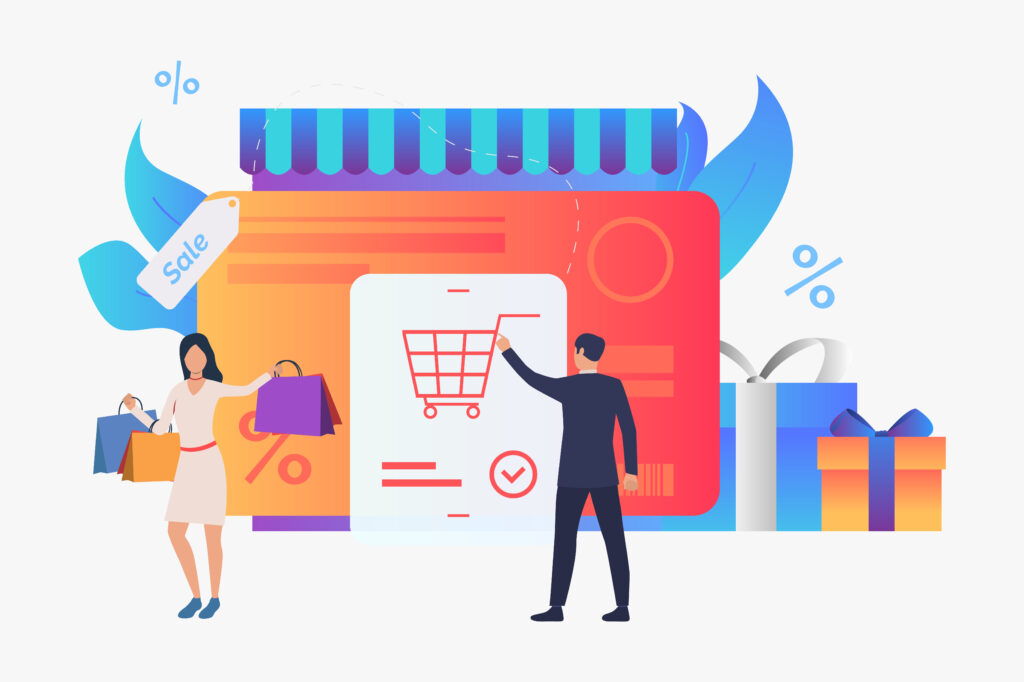 Upselling is a type of sales technique where customers are offered a product that's more expensive than the one they originally wanted to purchase.

It's used by most ecommerce businesses as a way to increase average order value and generate more revenue with their existing traffic. Upselling is so effective that Amazon attributes 35% of its total revenue to upsell offers. (ConversionXL)

In this post, we're going to talk about why you should incorporate upselling into your ecommerce business, as well as cover a few essential upselling strategies.
The importance of upselling
Upsell offers are an excellent way to:

Improve average order value (AOV) and customer lifetime value (CLV) – An effective upsell offer can help to get your customers to spend more per order, thus increasing both average order value and customer lifetime value.
Generate more revenue – By improving AOV and CLV, your business will be able to generate more revenue from its existing customers.
Increase customer retention – Upselling enables you to address your customers' pain points more effectively by allowing you to recommend superior solutions that can help solve customers' problems.
Why upselling works so well
Upsell offers are highly effective in getting customers to spend more money with your business. This is because these types of offers are presented to customers when they're already prepared to buy.

At this stage, you've managed to overcome any potential objections customers might have about buying from you. This makes it so much easier to sell them a similar, slightly more expensive product.

Since customers have already researched your brand and products, they'll be much more likely to take you up on your upsell offer.
Start with your most popular products
Upselling is a science. There's a lot of testing that needs to be done to understand what kind of upsell offer will provide the best return for your business.

The easiest way to get started with upselling is to include your best-selling products in your upsell offer.

Since these products already perform well on your website, there's a good chance that they'll do well when used as an upsell.
Don't overwhelm customers with too many options
Being presented with too many different options can make customers feel anxious and make it difficult for them to make a decision. This is a concept known as the paradox of choice.

Avoid making purchasing decisions difficult for your customers. Limit your upsell offer to two or three alternatives to the product the customers originally wanted to buy.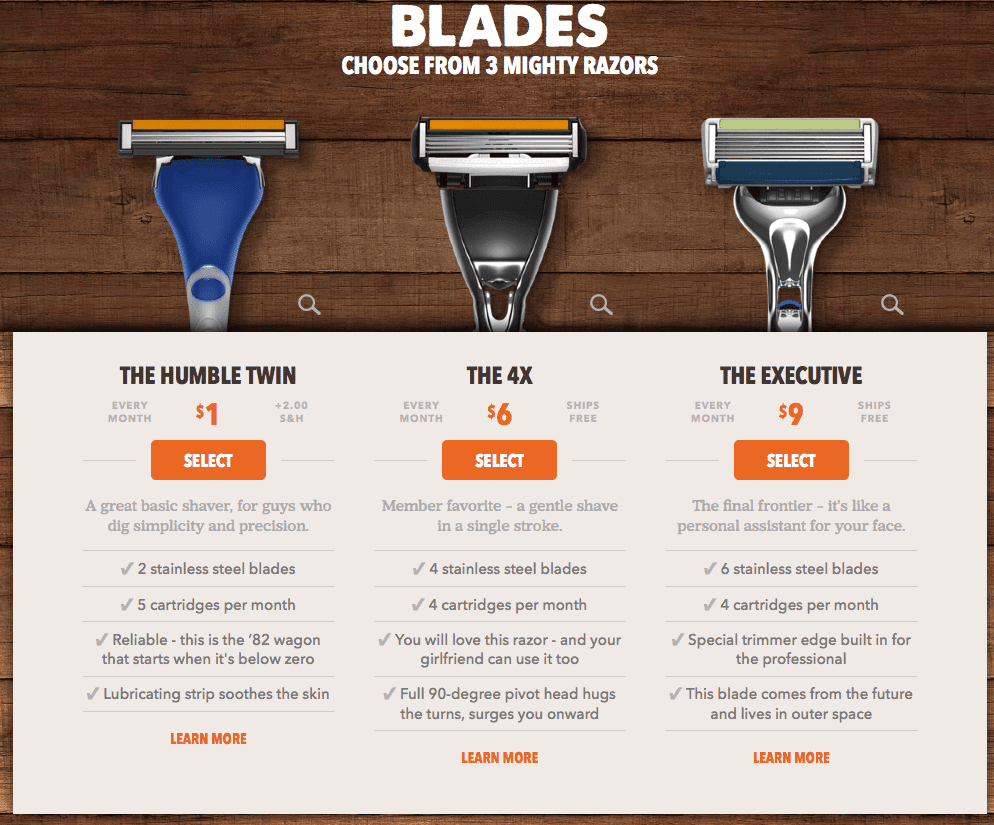 Make your upsell offer reasonable
When designing your upsell offer, you need to make sure that it consists of reasonable product alternatives. For example, if a customer is looking at a $50 blender, don't offer them a $500 one as an alternative.

As a general rule, the product you're using as an upsell shouldn't be more than 40% expensive compared to the original product. (Bitcatcha)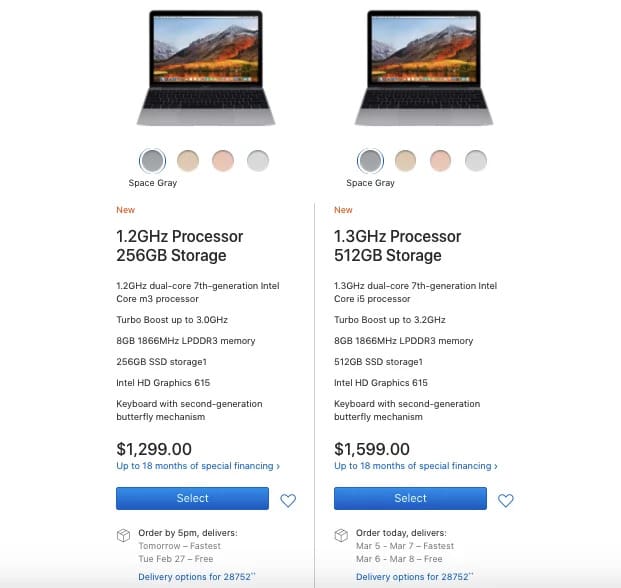 Try to make your upsell offer subtle. Design it in such a way so that it offers a lot more value for only a slight increase in cost.

This will ensure that you have the best chance of convincing customers into opting for the more expensive product.
Use add-on services as an upsell
While some customers won't be interested in a more expensive or superior version of a particular product, they might be interested in paying for one or more add-on services.

This means that you can use services such as customization, express delivery, insurance, and extended warranty as a part of your upsell offer.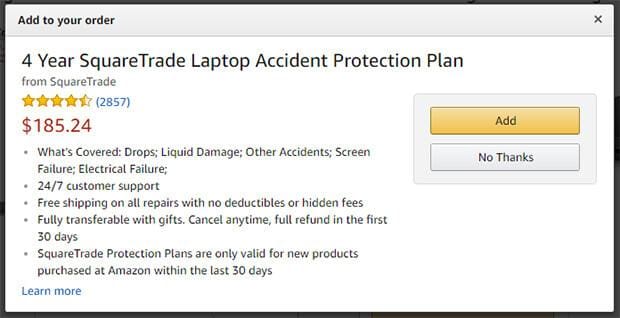 Take advantage of pop-ups
You might be annoyed at just the thought of a pop-up. However, a pop-up that provides customers with actual value and is personalized to their interests will be welcomed by most shoppers.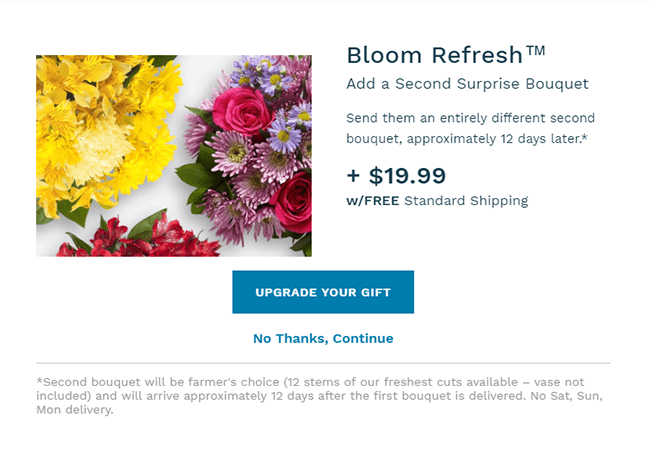 You can use a pop-up to display your upsell offer on the product page or even during checkout. Make sure only to use a single pop-up as to not cause too much friction in the shopping process.
Use a discount to sweeten the deal
You can improve the conversion rate of your upsell offer by using it in combination with a discount.

With 90% of consumers claiming that free shipping is the number one reason for making more purchases online (MarketingLand), offering free shipping (or a discounted shipping rate) in your upsell is a great way to get more customers to opt for your upsell offer.

If you offer free shipping on orders over a specific dollar amount, let your customers know that going for the upsell offer will make them eligible for free shipping.

Try out a post-purchase upsell offer
Most upselling offers focus on trying to upsell customers before they complete their order. However, you can also present upsell offers to customers after they make a purchase.

These are known as post-purchase upsell offers. They can be very effective at increasing average order value.

It's been shown that businesses, on average, have a 70% chance of selling to existing customers. Since you already have all the customers' information once they complete their first order, it's very easy for them to take you up on your upsell offer and make another purchase.

Use the order confirmation email to upsell
Another way you can upsell to your customers after they complete their purchase is to include an upsell offer in the order confirmation email.

Since these types of emails have a very high open rate, they're the perfect place to try to upsell customers.

To make your order confirmation email upsell offer even more effective, consider including a limited-time discount along with the offer.

Use upselling to generate more ecommerce sales
Upselling is a sales technique where customers are offered a more expensive version of a product they originally wanted to purchase. Most ecommerce businesses use upselling in one form or another.

Upsell offers can help you improve average order value and customer lifetime value, generate more revenue, and increase customer retention.

The best way to start to incorporate upselling into your ecommerce business is to use your best-selling product in your upsell offer. Once you gather more data, you can then optimize the offer by using different products or altering the pricing in order to achieve better conversion rates.

Remember not to overwhelm your customers with too many options and offer reasonable alternatives to the product the customers originally wanted to purchase.

Consider including add-on services such as customization or express delivery as a part of your upsell offer. Try different placements for your upsell offer, including pop-ups, the thank you page, and the order confirmation email.

Finally, combine your upsell offer with a discount to maximize the chances of customers opting to purchase a more expensive product than they initially intended.