Ecommerce Link Building: Everything You Need to Know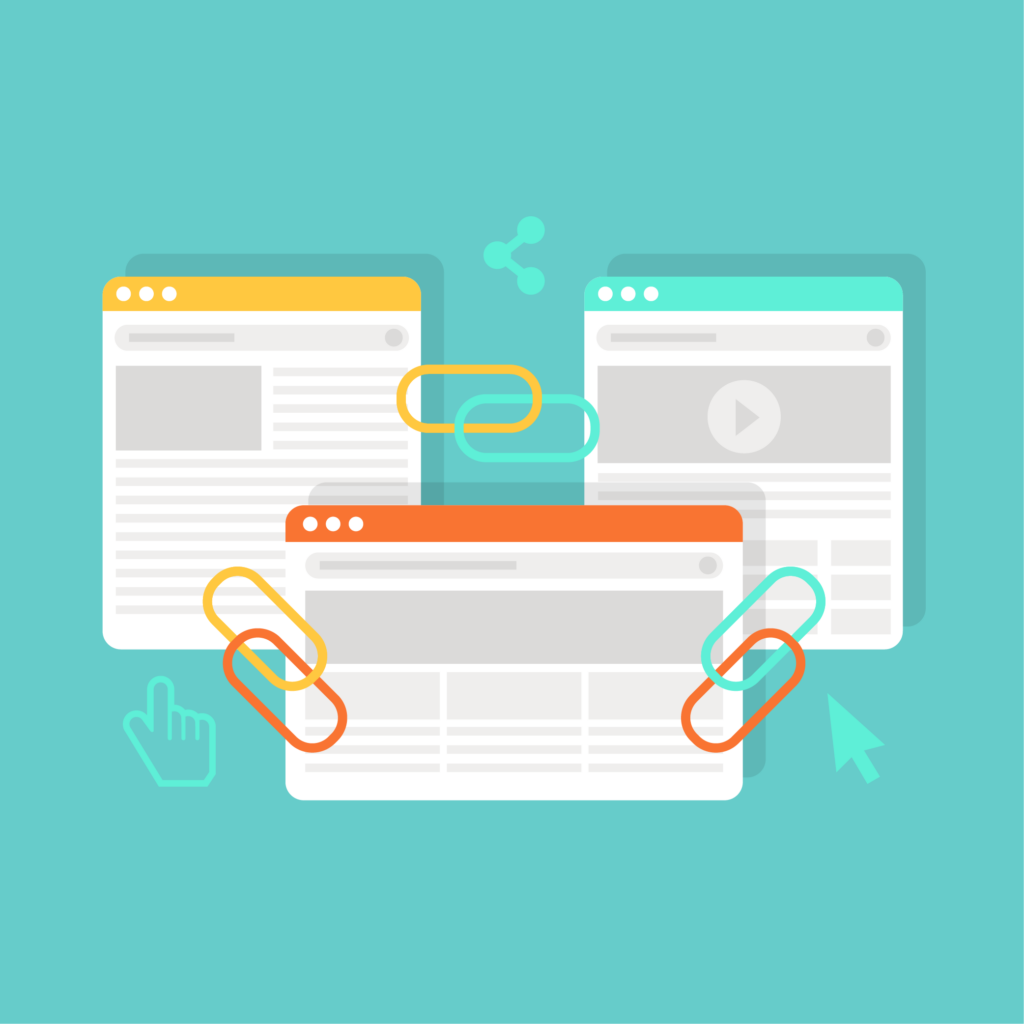 Ecommerce link building is the process of acquiring links from other websites. Links are a crucial factor in getting search engines to view your website as authoritative, relevant, and trustworthy.

This makes ecommerce link building an important activity for all online stores that want to grow their organic traffic and generate more sales.
What does a good link look like?
Not all links are created equal. There are good and bad links.

Bad links are links from low-quality websites that are irrelevant to the content on your website. In most cases, these types of links will harm your search engine rankings instead of improving them.

Good links, on the other hand, are links from high-quality, authoritative websites that host content that's in some way connected or relevant to your website's content.
Building good links to your website is an essential part of ecommerce SEO.

It's important to note that good links should be built naturally instead of being paid for because Google doesn't support the practice of buying links.

Ecommerce link building strategies
There are so many different link building strategies that it's impossible to cover them in a single post.
That's why we're going to focus on a select few that have stood the test of time and helped many ecommerce businesses to improve their link profiles and search engine rankings.
Get links from your business partners
Possibly the easiest way to gain links for your ecommerce website involves contacting your manufacturer or suppliers and asking them to link to you from their website.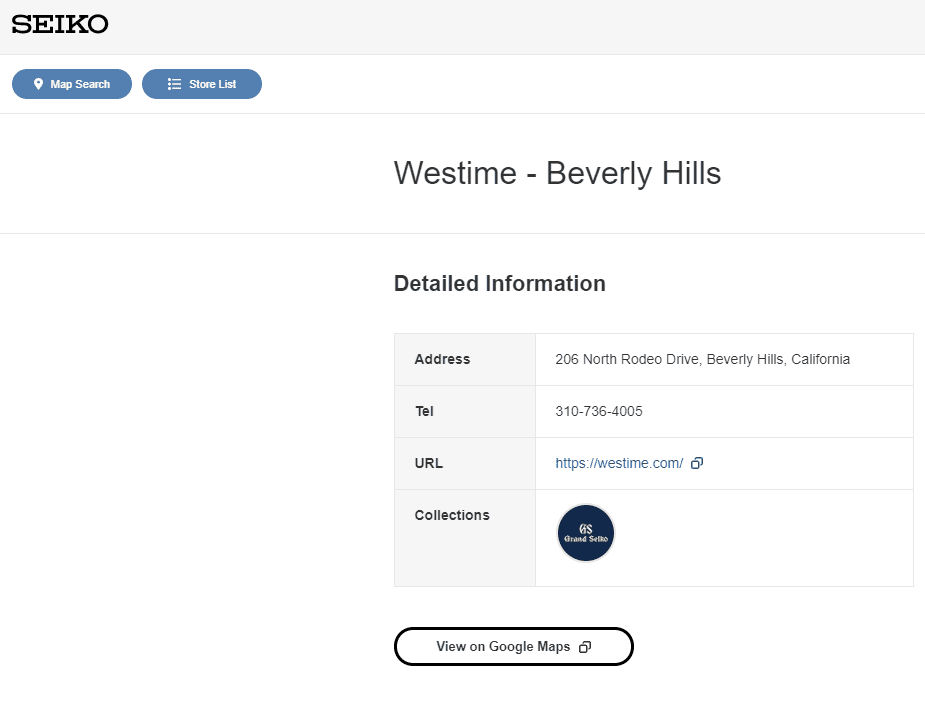 A lot of suppliers do this already. If yours doesn't, send them an email and see if you can get a link.
Identify unlinked brand mentions
If your brand is being talked about online, there's a good chance that you can use that to gain more links.

Use tools such as Mention and Ahrefs to identify websites that mention your brand without including a link.
You can also use Google to find unlinked mentions of your brand by typing in the following search query:
intext:yourbrandname -yourwebsite.com -twitter.com -facebook.com -pinterest.com -youtube.com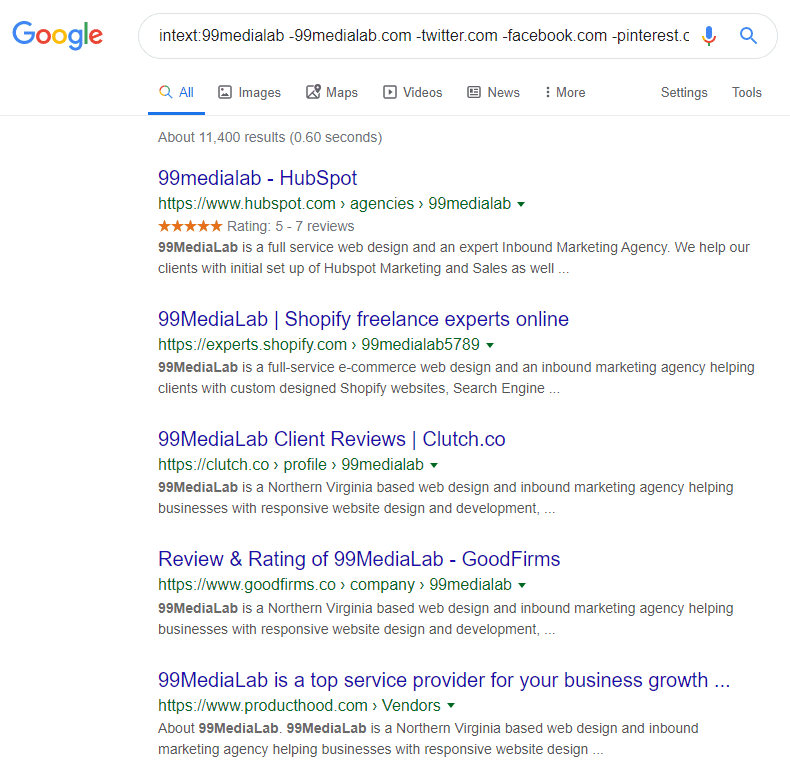 Gather a list of these websites and then reach out to them to ask if they would be willing to link to you in their content.

Since these websites are already familiar with your brand, they'll most likely have no issues linking to your website.
Create a blog
Posting blog content regularly is the best way to attract natural links to your website. For this to work, it's crucial that you post high-quality content that's relevant to your industry.

It's also important that you center your content on helping your audience solve their issues and pain points, instead of trying to use it to sell your products.

Finally, you should strive to maintain a fairly consistent posting schedule, since brands that run active blogs get 97% more links compared to those that post once in a while.

Additionally, it's been shown that companies which publish 16 posts or more each month generate three times as much traffic compared to businesses that post less frequently.

Apart from posting regularly, it would also be a good idea to spend some time promoting your content through social media as well as through influencer collaborations.
Start guest posting
A lot of ecommerce link building tactics that worked in the past can now get websites into trouble. Guest posting is one of the few link building methods that have stood the test of time.

It's still one of the most effective, whitehat link building practices that ecommerce businesses can use to improve their link profile and drive more traffic to their website.

Guest posting involves reaching out to websites and offering to write a blog post for them.
Most websites that accept guest posts allow contributors to include one or two links to their own website within the content (this is how you get links from guest posts).

If you want to gain high-quality links from guest posting, you'll need to focus on contributing to authoritative websites in your industry.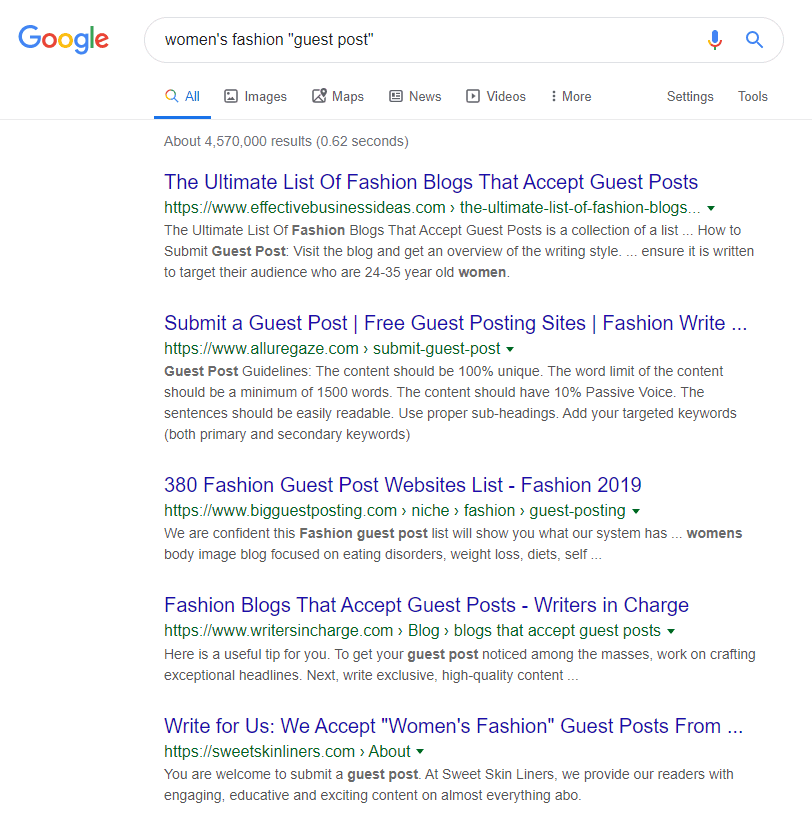 There's no use in getting a link from a website that's focused on topics that are completely unrelated to your business and products.

You can use the following search queries to find guest posting opportunities:

keyword + "guest post"
keyword + "submit blog post"
keyword + "this is a guest post by"
keyword + "contributor guidelines"
keyword + "become a contributor"
keyword + "submit an article"
keyword + "write for us"
keyword + "this post was written by"

Once you get accepted as a contributor to a website, you should make sure to write an excellent blog post that the website's audience will appreciate.

This will help you develop a long-term relationship with the website's owners or editors, which, in turn, will enable you to secure more guest posting opportunities in the future.
Try broken link building
Broken link building is a strategy that focuses on getting links through identifying your competitors' broken pages, reaching out to websites that link to those pages, and then asking them to link to a similar resource on your website.

If you want to improve your chances of getting a link from these websites, take the time to create a resource that's even better than what your competitor had on their broken page.
This will make linking to your website even more enticing.

Broken links and pages can be found with a number of different tools, including Ahrefs, SEMRush, and Screaming Frog SEO Spider.

Collaborate with bloggers
Are there bloggers that frequently write about products and brands from your industry?

If there are, you should reach out to them and offer them a free product in exchange for getting a review on their blog.

Getting your products or brand reviewed by a blogger will not only provide you with a quality link, but will also most likely drive some traffic to your website and help you improve brand awareness.

You can use search queries such as "competitor's product + review" to find industry bloggers that write reviews.
Do you need help with SEO?
Our team of SEO experts can help you optimize your website for search engines, as well as create high-quality content that will attract links from other websites in your industry.