4 Ways to Increase Your Dental Practice's Local Marketing Outreach
Do you want to increase your online visibility?
If you run a dental practice, you know there are hundreds of potential patients out there in your location, don't you?
These people are looking for the best dentist or dental specialist to answer all their aching questions. Since the majority of these people use search engines to find information online, you're already losing out if you're not attracting them to your website.
You need to take advantage of Google to reach these local prospects. Why? Your patients expect to find you online before visiting your office or store.
Data from WordStream shows that 72% of consumers who did a local search visited a store within 5 miles.
According to Google, 50% of people who searched on their smartphone for a local business visited a store within a day, and 32% of patients said they visited a store or made a purchase.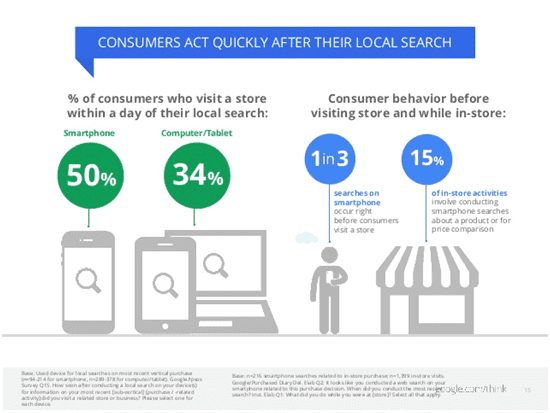 In order to create more awareness for your dental practice and acquire more targeted leads, you don't have to fold your arm. You just need to take the right actions.
The good news is, I'm ready to walk you through the 4 ways to increase your dental practice's local marketing outreach. Let's get started.
1.  Promote Content on Facebook to Your Local Audience
Adding social media to your marketing mix is very critical to your business growth. That's where your patients are in their daily lives. Your practice must be on social media as well where it will improve your local marketing outreach.
Facebook is the largest social media network in the world with over 2 billion users worldwide. On Facebook, you can engage your current patients and your prospects via your business page.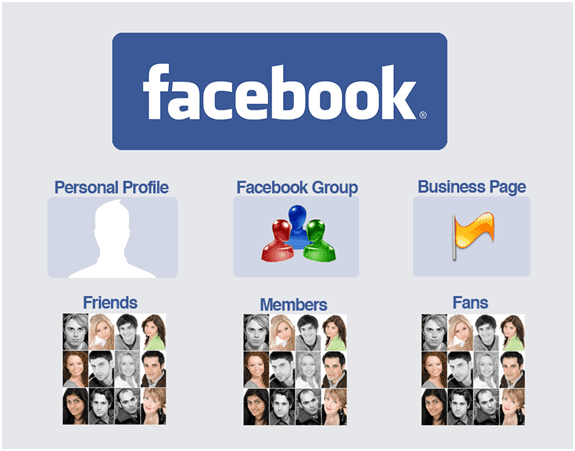 How do you create a business page? Start by creating a timely and engaging content which you can share on your Facebook page and boost it using paid ads. Then, target your local prospects. For example, if your Dental Practice is located in Los Angeles, then you can target only prospects in that location.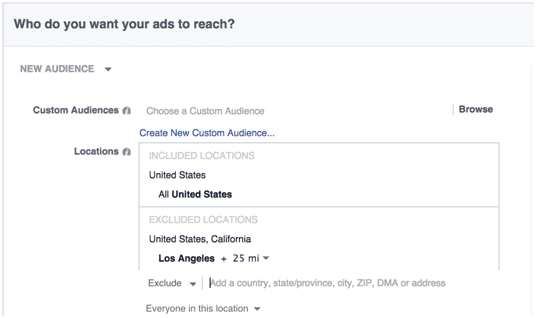 If you want to take it further, you can promote your content using Facebook ads. This is a great way to cut through the noise and reach more people (especially potential clients whom you have never met before).
And if you're wondering how to go about it, here's how:
Go to your Facebook Ads Manager and click on "Manage Adverts".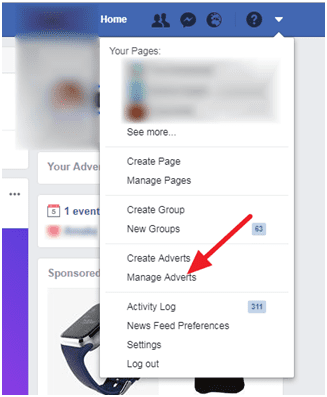 Next, at the top right corner of your ads manager, click on "Create Advert" to set up a new ad.

Set your marketing objective and choose the reach option.
Now, here is the part I'm particularly interested in. Add your city or town.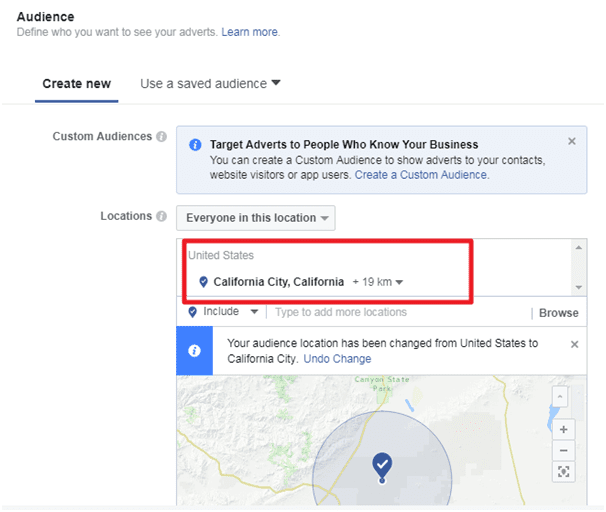 Once that is complete you can go ahead and complete your campaign.
You can also set up a new Facebook ad campaign using the Facebook Power Editor. This feature provides more advanced tools and insights for advertisers.
Ultimately, you want to create engagement and increase conversion rate. It doesn't matter the method you employ to push your best content out to your audience.
The Power Editor has a dashboard/interface that allows you to create content; it could be a carousel, a photo, video, or even a status update.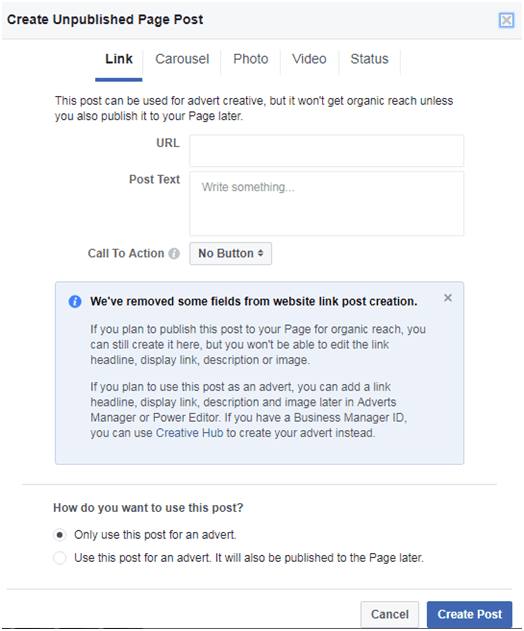 If you choose the second option that reads: "How do you want to use this post?" you will be able to target people in your location more effectively.
2. Generate Reviews
Honest patient reviews are the hallmark of a thriving dental practice. Reviews guide new patients to your business because your prospective patients want to be sure that your services and quality of work are reliable.
Your patients will search for your name in Google before visiting your practice or office. In addition, they will find you on review sites, even if you don't have control of your page on those sites just yet.
Davis Dental Practice has an interesting review on Yelp. Interestingly, this review ranked on Google's first page right after the site itself.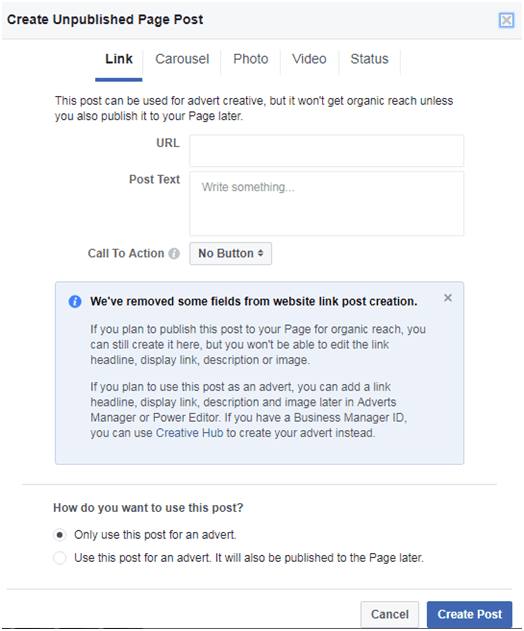 Don't manipulate reviews or compel your patients to write them. Rather, encourage and inspire your best customers to leave you a review on these review websites. ncourage and inspire your best patients to leave you a review on these review websites.
Remember that these reviews don't have to be all-positive. Even a negative review is important, because it shows that as a dentist you're not 100% perfect. Sure, your practice has some flaws, but you're doing everything possible to provide a better service for your patient, regardless.
In fact, a 2014 online medical review report shows that the number of patients now using online review websites has increased considerably by 63% compared to 2013, and the number continues to grow today.
Yelp is the most-used platform for business reviews. It is a major component for your dental practice's local marketing outreach. Make sure that you claim or add your business to Yelp. It's free and you can get started with them today.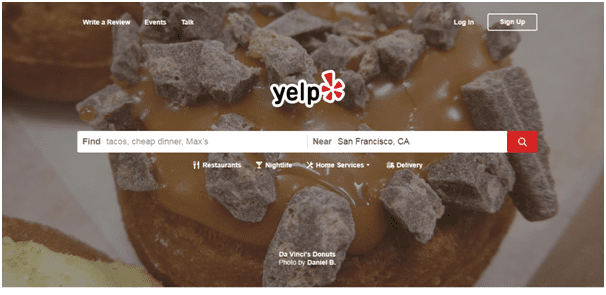 Ensure you link your Yelp profile your website and vice versa. You can also create some print materials which you can give away to attract more reviews online.
You can train your team members who communicate directly with your patients to kindly request a review from them after a service. Ideally, allow your patients to place reviews on several review websites. This would bring diversity because honest reviews from multiple websites are good for your business. Reviews of all business don't just come from one place.
3. Create or update your Google My Business Page and optimize your website for mobile
If you care about improving your local ranking in Google to attract local patients, then you need to create your Google My Business page. Still confused about a Google My Business Page? Here is how it works in action.
A potential patient goes to Google and searches for "medical practitioners in California city." The results will look like this: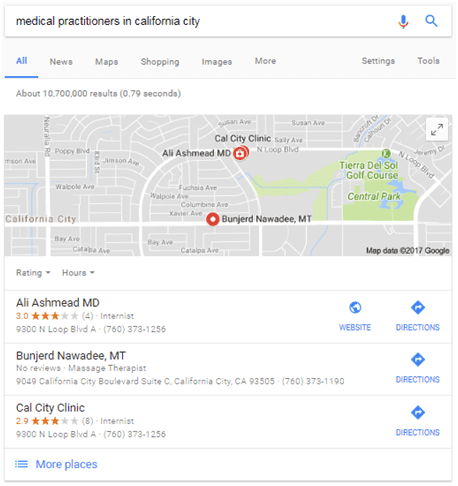 If you want your business to show up like this when people search for a practitioner (e.g., dentist) in your city, you must create a Google My Business page for your practice.
Furthermore, If you discover that your business is not showing up when people search for businesses in your location using your target keywords, then you may need to improve your Google My Business page.  
The Google My Business page is also mobile responsive. This makes it easier for you to receive targeted traffic from mobile devices. People who search for your Dental practice near me, on mobile devices, for example, are more likely to visit your office.
A recent study by Google shows that 50% of consumers who conducted a local search on their smartphones visited a store within a day and also, 34% of people who searched with their computer/tablet visited the website the same day.
That said, it's critical for you to not only use the Google My Business page, but you should also optimize your website for mobile devices to improve your visibility and conversion.
If you're not sure whether your website is mobile-friendly or not you can use the Google mobile friendly testing tool to find out.
However, if your website is not mobile friendly, you should consider tweaking it using these best practices. Google will rank mobile-friendly websites higher because they improve the user experience.
4.  Host a contest on social media to inspire fans
Challenges can generate lots of engagement for your dental practice. It can also increase your brand's visibility if you execute it well. If you've been actively promoting your practice on Facebook, Twitter, LinkedIn, and other social media networks, then you have many followers from your various campaigns. Hosting a contest can increase your engagement among your followers and increase the number of prospective leads.
Be creative when hosting or launching a contest. To give you an idea on how it can be applied in other industries, a fitness expert can launch a fitness challenge and ask fans to take up a fitness exercise, video themselves working out and upload it to their page.
The winner of your contest should win a prize. It could be anything, but try to keep anything material related to dental health. Even featuring them as the "Follower of the Week" or month will make them happy. Besides, it's also going push them to exercise more and stay fit. It also shows how much you care about their health.
Here's another example from another industry: Disney Parks and Make A Wish Foundation extended their long-term partnership by starting the #ShareYourEars campaign in 2016. This campaign generated 1.77 million photo posts, 420 million social media impressions, and more.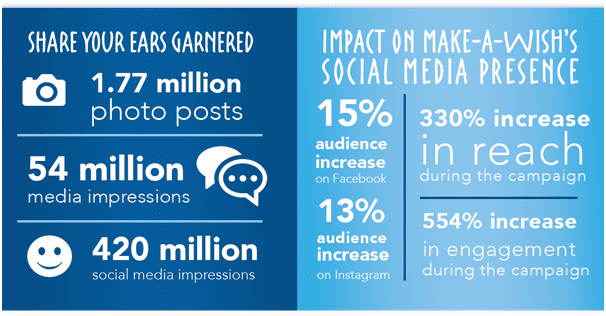 For the contest above, fans were instructed to make a picture of themselves and add Mickey Mouse's ear and leverage the hashtag (#ShareYourEars). For every picture that had the Mickey Mouse picture, Disney donated $5 to the Make a Wish Foundation.
Well, this strategy blew the internet just within few days of launch. Disney eventually donated over $2 million even though they planned to spend just $1 million dollars for the campaign. That's a great way to increase brand awareness.
Though Disney is a major company and your dental practice is local, this is still a great way for you to increase your local marketing outreach efforts. Since your social media followers consist of people around your neighborhood, if they share the campaign post, don't you think their friends will most likely see the post and develop an interest in it?
You bet!
Conclusion
As a dental practitioner, you're often required to meet and speak with potential clients face to face.
However, there are steps you need to take via local marketing outreach in order to naturally attract these people to your office or get them to call (to schedule an appointment) your office. To do this online, you first need to develop your social media presence, take control of your review pages, and get your Google My Business page.  
Social media contests or challenges are just one great way to attract more people going to your Facebook page with likes. Don't forget to use branded hashtags and promoting them in all your posts. Hashtags help you streamline and track your campaign's performance.
Are you ready to take the next step to improving your dental practice's local marketing outreach? Contact us today to receive a free quote and get started on taking your local outreach efforts to the next level.