Marketers are not like the normal people right? Yeah of course, they are not. They are crunching complex data, analyzing traffic trends, formulating marketing strategy and doing other crazy stuff to ensure better presence of a website on the web. So, quite expectedly, they need to have access to some tools that will help them cut through the cutter of complex data with elan and ease.
But, most of these tools are extremely expensive and therefore, majority of the small business organizations out there might not find them affordable. But, fear not because our old friend [foe maybe if you are into black hat zone] Google is there to arm with you an array of cool tools that will help you analyze things like never before. Surprisingly most marketers aren't aware of the cheap, or even free, resources that Google offers.
Let's take a look at a few tools that may come in handy for small business owners.
To Find and Know Your Target Market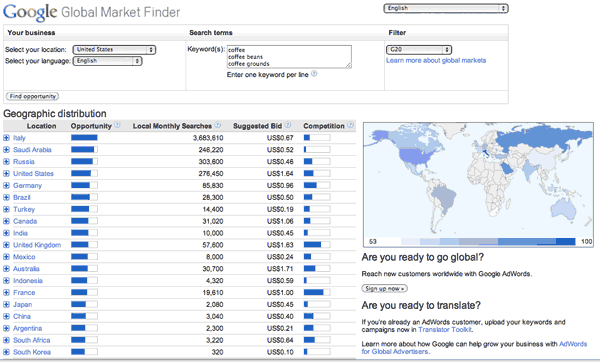 Want to identify your potential customers around the world? Just enter a keyword associated with the product or service your business offers, choose the region you want to promote it, and voila, you get opportunity-based rankings.
How does it work? Well, it translates the keyword into the regional language, and considers factors such as competition for it, recommended bid price and local search volume to come up with ranks for each location within the region.

Like, Tweet or +1 us to unlock rest of the article
If you enjoyed this post, GET updates. It's FREE