Mobile Social Networking – The Ins and Outs
Why do you need to think about mobile devices when strategizing your social media marketing campaign? Well, the reason is simple – every day, more and more users are using their Smartphones, tablets and such other devices to go online, and check social media updates.
If your social media marketing strategy does not take this into consideration, you are falling behind. Consumers' expectations are high, and they get higher each day. And if you cannot tweak your strategy to meet their expectations, you are destined to fail.
Let's take a look at the ins and outs of mobile social networking.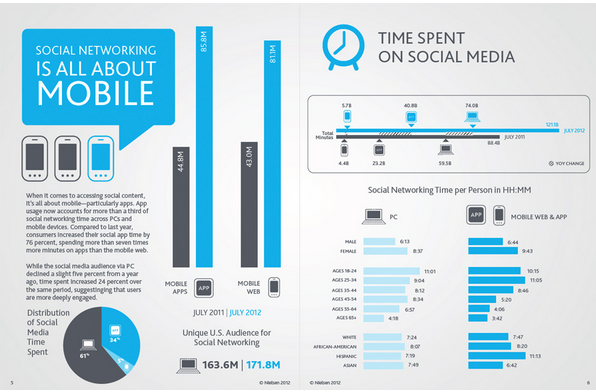 For your blog: Go responsive.
You have opted for a responsive design for your website. Great! But what about your blog design? If it doesn't look as good on a mobile as it does on a desktop, you may lose your followers.
If you haven't hired a developer yet, do it now. Or, at least, change to a responsive theme.
For Facebook: Make tabs navigable.
User interface experience needs to be as simple and easy as possible. If it isn't, you will fall behind on your marketing. Make sure your Facebook tabs are easy to access and navigate.
If you cannot do it on your own, opt for a third-party app provider such as ShortStack.
For Google+: Claim your local page.
For a local business with a physical location, this is perhaps the best way to make sure that your customers as well as your prospective customers find you with ease. It also helps you get more local reviews.
Just claiming your local G+ page won't do; make sure the details are correct too.
For Instagram & Vine: Remember, they are specifically designed for mobile devices.
A picture is sure worth a thousand words. And the picture-dependant social networks can help you create beautiful impressions for your customers.
Use these channels to share pictures and videos in real-time to make the most of it.
For Foursquare: Target local customers.
With appropriate ads, you can make it easier for the local people to find your business. To do this, make sure you follow the right steps – create localized ads, optimize your site for mobile devices, and use click-to-call extensions.
With details customized to the user's location, you are sure to attract them.
Also, keep in mind the three strategies to ensure mobile social networking success.
Test your options: Regular tweaks to your social media strategy will keep it fresh and updated. And it will also help you understand which works well, and which doesn't. Continuous testing is the only way to identifying a winning formula.
Test how your social media pages look on different screen resolutions too.
Keep it unique: If you post the same messages on every social media platform, your fans and followers will soon be fatigued. It also hampers your outreach efforts; a one-size-fits-all kind of approach won't work here.
Tailor your approach to fit the social channel, the target audience, and the aim you have.
Monitor your channels: It is important to keep track of every little detail on every platform. The good news is that with social listening tools such as Mention, it is ever easier to do so nowadays.
With these, you can monitor whatever happens on your social networks without a hitch.
Numerous tools and applications make it easier for you to handle social media marketing. Be it Hootsuite's dashboard for managing your accounts or Tabsite's app for accessing Facebook tabs, with the right help, you can ensure social media marketing success.