9 Tips to Use Foursquare for Local Business Marketing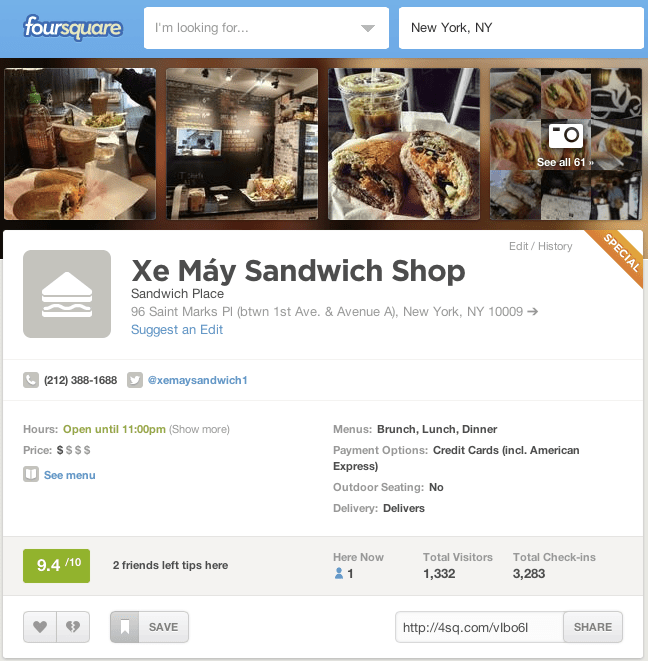 Facebook, Twitter, LinkedIn and many other social media platforms offer small businesses an easy way to connect with customers. The question is – are you aware of which ones work best for you?
For a brick-and-mortar business, local marketing is significant. And undoubtedly the champion in this field is Foursquare. Big businesses are using it. And so are small and medium businesses. If you aren't using this social platform yet, you may be losing out on a good number of customers.
Foursquare for Business offers a simple and effective tool for location-based marketing. It's no wonder that 1,500,000 businesses are already using it to their advantage, and achieving success with it too.
Find success for your small business with this tool with the help of the right tips.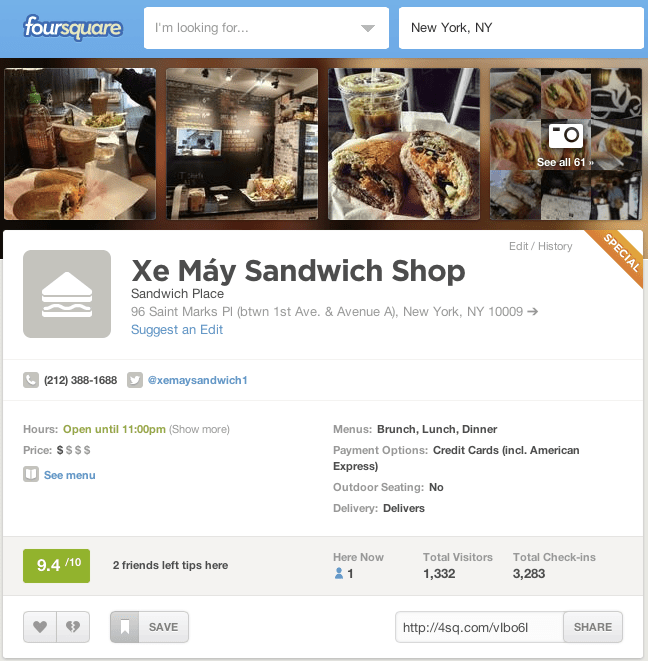 Ensure ownership of your business
Search for your business on the site. If it's already listed, you can claim ownership. If you cannot find it, create an account, and fill up the details. Add your picture, Twitter handle and relevant tags.
Note: A Foursquare business listing is similar to being present in the Google or Yahoo Local. It can boost your SEO rankings. Once you have your profile, you can also get a dashboard of analytics, with numerous relevant and practical details.
Send updates
A word about a forthcoming event, an image of today's special or a discount coupon can be send to your previous customers who are in the vicinity. This makes it easier to draw them to your place of business.
Leave tips and trivia
Want an insider tip about the best arenas or stadiums in your area? Just 'check-in' to ESPN's profile on Foursquare! You can easily connect with your customers when you share relevant, and even irrelevant, info with them.
Offer specials
Are you trying to attract new customers or bring in existing ones? Try Foursquare Specials. Be it a Loyalty Special (a free coffee every 10th check-in), a Friends Special (a free side dish when you check-in with 5 friends) or a Newbie Special (a cookie with your coffee on first check-in), it can prove to be quite a draw.
Create a brand page
Is it only for brick-and-mortar businesses? Not really. Take a cue from The New York Times. It has come up with an impressive profile on Foursquare. And it has had its fair share of success with it too.
Get usable information
What are customers saying about your business? What do they like? And what do they dislike? Citations from your customers can give you important points about what you are doing right and what you need to improve.
Share favorites
A little insider info always works well to attract people. Ellen DeGeneres has built up quite a fan base on Foursquare. And once you 'like' her, you get to view her favorite places. And when you visit any of these places, you get access to prizes and badges. She sure stays connected with her fans!
Craft badges
One way to establish relation between your business and your customers is to create and offer custom badges, which will ensure incentives for every check-in. craft a set of badges to add to the fun.
Integrate Foursquare with your business
Add the Foursquare plug-in to your website. Also, add stickers and clings to your business location to remind people to check-in on your profile on this platform. It will ensure that the online and offline audience get to find your business with ease.
With a little planning, you can make use of the tool for the advantage of your business.
Foursquare gives you the best opportunity to bridge the gap between the online and offline world. With it, you can easily ensure that your customers 'check-in' to your business, online and offline.