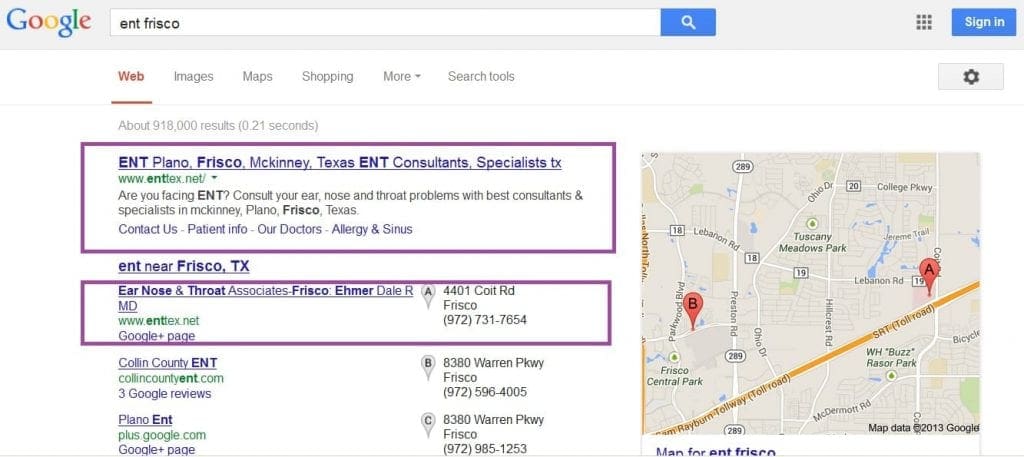 ENT Medical Practice Case Study – Local SEO
Local Search Engine Optimization (SEO):
Ear, Nose and Throat Associates of Texas
ENTTEX is a specialized medical and surgical care center for ear nose and throat diseases. The clinic is one of the top ranking ENT treatment centers in Frisco, Texas and caters to both adult and pediatric illnesses. ENT Tex is a reliable name when it comes to state of the art treatment and advanced therapies for ENT diseases and also has the best diagnostic imaging, radiology, laboratory and surgical facilities in the area.
99MediaLab was selected by the esteemed clinic for the development as well as search engine optimization of the center's website. Our SEO team was assigned the task to boost the search engine rankings and attract more patients to the clinic.
Challenge:
Despite their stellar record of ENT care and surgical services in Texas, ENTtex was short on the number of hits they were getting on their website. The website was ranking low on major search engines because of the absence of relevant keywords and the lack high quality backlinks to the website. The website design was also lacking in appeal and functionality, which was one of the major obstacles in enhancing the conversion rate of the incoming traffic. In order to increase website traffic and enhance the search engine rankings, our expert SEO team at 99MediaLab devised both onsite and offsite SEO optimization strategies. Through our strategic research and detailed analysis, we were able to find the right keyword volume for ENTTex.net which provided the website an instant edge over its competitors through a strategic execution of off-site SEO.
Results Achieved:
Our customized SEO optimization strategies together with an innovative and user-friendly website design helped the Ear, Nose and Throat Associates of Texas website gain higher search engine rankings on all popular search engines within just a few weeks of going live. Not only the traffic increased by over 500% and the bounce rates decreased by 25%, but the user engagement on the website also increased and the total time spent by users on the website jumped up by 300%.
Specific results include:
1. Optimized keyword research by 99MediaLab enhanced the search engine ranking of the website. Almost 95% of the industry-specific keywords now return ENTTex as the 1st result on the 1st page of Google.
2. The number of hits in the website increased by 500%
3. Number of keywords in top 10 of all search engines increased by 250%
4. ENTTex moved up a total of 42,125 spaces across all major ranking keywords
At 99MediaLab, we know every industry is different and each business needs a unique and customized approach to crunch the numbers and rise above the competition. All in all, working with the ENTTex team was a great experience and the positive results we gained through their website development and search engine optimization is a true achievement for us.
Services Delivered: