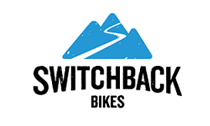 Switch Back Bikes
"After 30-days…21% increase in website traffic…128% increase in sales!"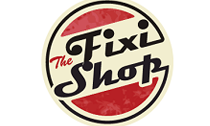 The Fixi Shop
"99medialab Team been awesome to work with and have delivered results rapidly at a reasonable price!"
Real SEO Results Achieved for Virginia Businesses
For Our Small and Local Business Clients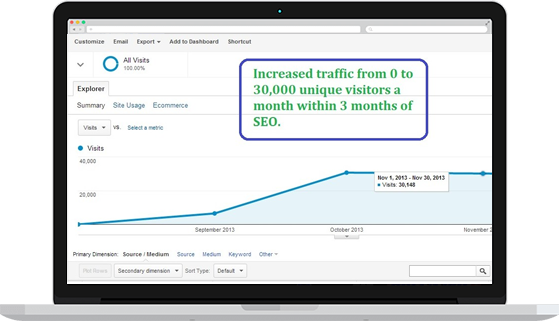 We Increased the Traffic from 0 to 30,000 Unique Visitors a Month
By executing a well-planned and prepared SEO campaign, our team was able to increase search engine traffic of this new business from 0 to 30,000 unique visitors a month resulting in 200% increase in revenue.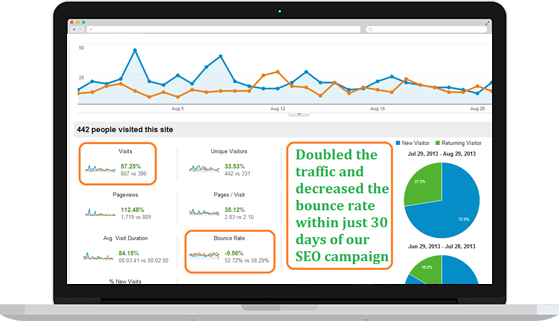 Increase Traffic by Over 50% for a Photographer and a Videographer
Our targeted Local SEO campaign for this local photographer resulted in increase in traffic by over 50% within just the first month of our SEO campaign. The new traffic was so targeted that bounce rate decreased by over 10% as compared to the previous months.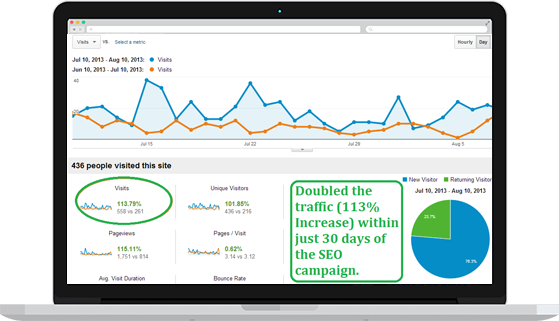 Doubled the Traffic for a Local Technology Company
Our targeted Local SEO campaign for this tech company resulted in double the website traffic within just the first month of our SEO campaign. The client also saw an increase in the page views by over 100% as compared to the previous month. This resulted in increase in traffic, sales, and revenues.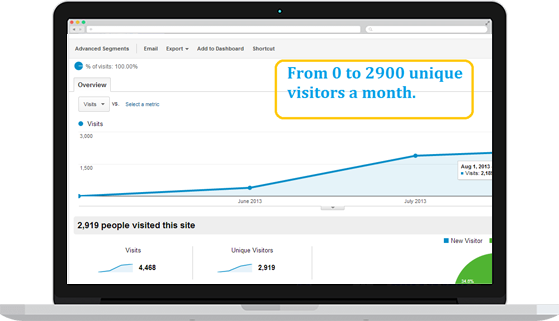 Increased Unique Visitors from 0 to 3,000 monthly visitors for a Local iPhone Repair Shop
This Texas based local small business came to us with a new website with no online presence. Within 3 months of our SEO campaign, we increased the targeted traffic from 0 to nearly 3,000 unique monthly visitors. This resulted in increase in new customers, new leads through phone calls and increase in referral business for the client.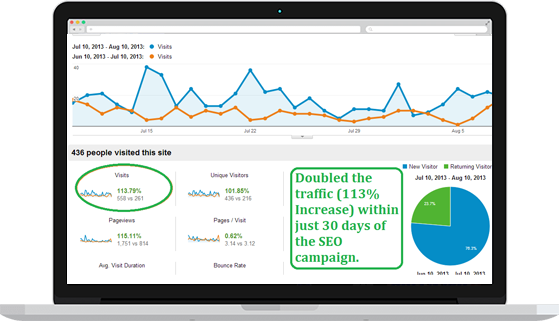 Increased Website Traffic by Over 35% Within the First Month
This small business providing phone system and phone installation services to small businesses came to us with a challenge of not getting any traffic from the search engines and had to rely heavily on PPC Ads. With the help of our SEO campaign targeted at local businesses we were able to increase the traffic from the search engines by over 35% within just the first month of the campaign.
Our Top Level SEO Strategy to get
First page Rankings on Google



Comprehensive On-site SEO

Websites need to be search engine friendly for it to rank higher. We would make the site search engine friendly by writing appropriate titles and descriptions of the pages




Social Media Optimization

We live in an online social world and consumers are on social media networks. As part of the campaign we would optimize your website for social media networks




Guest Blog Posts

We reach out to other established bloggers and convince them to write a blog post for your business and website




Article Writing

We would write content and keyword rich articles for your business and get you great backlinks




Press Releases

We write and distribute press releases for your business every month




On-site Blog Posts

Google likes websites with fresh content. We would write and manage your website blog




Local Directory Submissions

Google looks for local citations when ranking local businesses. We would submit your business to various local directories (yellow pages, manta etc.) to get local citations




Sitemap and Google Webmaster Tools Installation

As part of the campaign we would install and optimize your sitemap and Google Webmaster Tools
Search Engine Optimization (SEO)
Our team can help you with Search engine optimization which is a technical and multifaceted process that requires extensive research and analysis so as to increase your website's prominence in web searches resulting in increased revenues and new customers for your business. It's also a key marketing strategy for your business to increase free traffic to your website through search engines. Providing organized and relevant content that is easily accessible to your desired customers is integral to increasing positive public exposure for your business. However, our SEO strategy does not simply increase the exposure of your webpage to all search engine users, but we target a core group of your desired customers and market by providing information that is custom built for your customer's expressed needs (via keyword usage).
Why SEO?
Our SEO DC and Virginia clients know the importance of using search engine optimization as a way of obtaining positive exposure; unlike other marketing strategies, SEO has easily quantifiable results. Your website's increased traffic and search engine prominence can easily be measured by site statistics and search engine ranking reports. We offer well-rounded SEO services that include keyword optimization, proper content streamlining and coding that work with search engine algorithms, all of which will ultimately lead your target market and customers right to your informational doorstep, the website.
Keyword Analysis – The Most Important Step for Successful SEO
One of the key tasks for our Virginia search engine optimization team is to understand keyword analysis; the phrases that are most commonly used to direct users to your website and web content. This requires in-depth analysis of highest and lowest hit search terms, single keyword and context based analysis. Knowing which keywords should be optimized requires knowing the target audience for a webpage and highlighting their wants and needs with content-based keyword optimization. Being able to predict search engine behavior of a target market allows us to direct potential customers to your webpage that has been streamlined to suit them. Our SEO team makes sure that proper keywords are used and that it has optimal keyword density.
SEO Strategy Execution: On-page SEO and Link building
Keyword analysis is but one part of effective SEO campaign; only a qualified Virginia SEO company will be able to adequately enhance webpage content to bring it in line with keyword density and frequency requirements for your Virginia (VA) and/or DC based business. On top of robust and effective content, proper code enhancement is imperative so that search engines may properly maneuver through the structure of your business website. Appealing content must be presented in the proper context and format in order for search engine coding and keyword enhancement to produce productive results. Our team of SEO experts would develop a content strategy that fits your business to get the best results and traffic from search engines. To execute a successful SEO strategy, we follow the below process:
Frequently Asked Questions & Answers