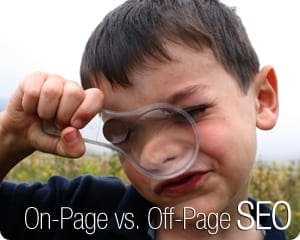 If you take charge of optimizing your site, you would also know that Google's algorithm changes constantly. You always need to be on the top of things to know where to focus your energy to be able to get the best returns. One thing you need to understand is the difference between on-site and offsite SEO and the best ways you can make both work for you.
When you take steps on your actual web page to lay the path for a good search plan, which is on-site SEO. Things like your site's titles, URL structure, meta tags, and XML sitemap. As you go along, it also takes into account each page's URLs, title tags, alt tags for images and the keywords you have sued. On the other hand, off site SEO is all about the things you do to create a network of links that point back to your site. Search engines look to these links for signals of authority. Some of the examples of off site SEO is link building, article marketing, linkbait pieces that are shared on websites such as Reddit, social media campaigns and inbound marketing.
What are some of the things you can change or do to improve your site's performance in the next 4 weeks? You must remember that your content is the most important factor in SEO. High quality content becomes link worthy and share worthy, and this can go a long way. Similarly, poor quality content will not be linked and shared easily, resulting in poor site performance.
Top 2 On-site SEO Action Points
Ensure that your SEO plugin is good. Consider adding 
Like, Tweet or +1 us to unlock rest of the article
If you enjoyed this post, GET updates. It's FREE