Comprehensive Plumbing Marketing Guide – Step by Step [Infographic]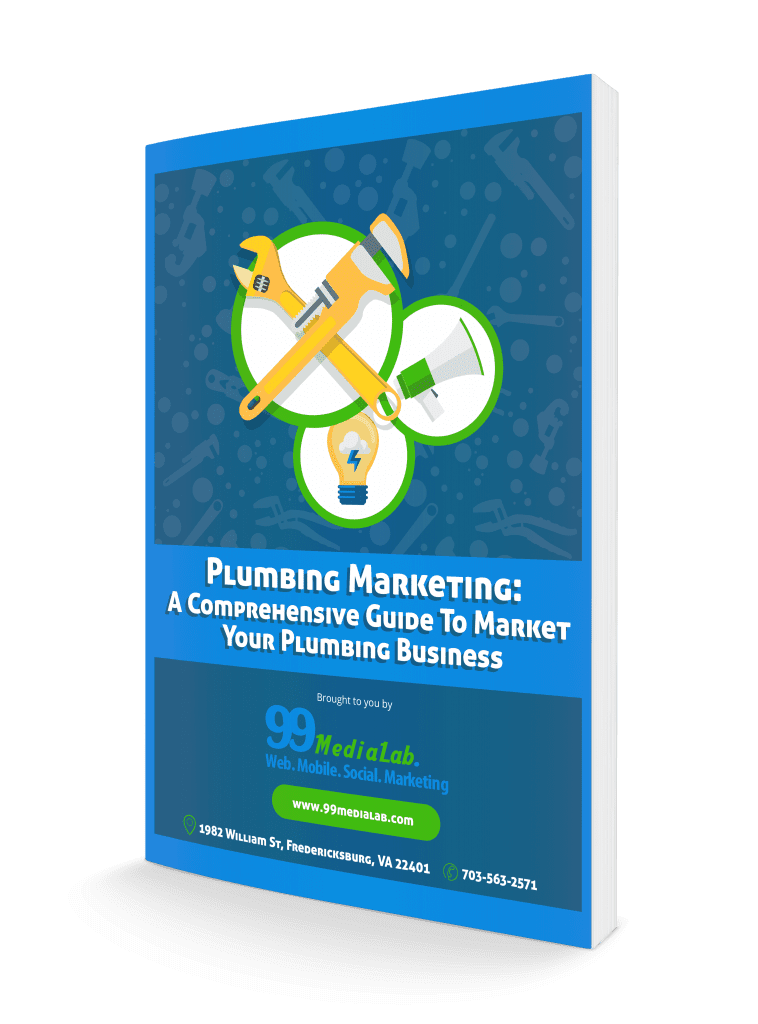 With so much competition already, how do you plan to market your plumbing business? For most contractors, it's hard nut to crack. But this in-depth guide will help you.
To clarify, you have to know that the US Census Bureau lumps plumbing with the heating and air conditioning (HVAC). There are over 154K businesses in the industry with over 715K employees, according to IBISWorld.
Plumbers admit that they do not have a marketing plan. Over 77% HVAC contractors including plumbers reported that they do not have a formal marketing plan.
What makes things worse is that most of the plumbers invest half of their budget on Yellow Page ads that do not give any return on their investment. How sad?
If you're still relying on Yellow Pages ads to acquire new leads and clients for your plumbing business, I'll be straight up with you:
You're wasting your hard earned money. Why?
Because a whopping 85% of consumers reported that they do not use Yellow Pages to find local businesses anymore. But instead they now use the internet preferably a search engine to find plumbers.
There's a time when consumers used to search local business through Yellow Pages, but things have changed over time.
Your target audience is already using the internet to find you. If you continue to invest money in the wrong place or if you continue to run your plumbing business without a marketing plan, you'll continue to lose consumers without you having any idea of it.
If you have never read or some of the proven plumbing marketing strategies, as you read along, you'll find practical ways of acquiring new customers by channelizing your marketing budget in the right direction.
Plumbing marketing:
What is it about?
All the marketing activities that are used by plumbers and contractors to promote their plumbing website and gain new clients are together termed as plumbing marketing.
As a plumber, you should understand the basics of digital marketing. This way, you will find it pretty easier to get new clients via the internet.
It's fine to rely on word-of-mouth as a marketing channel a decade or more ago, but when your potential clients have started using the internet and social networks, there is absolutely no room for sticking to the old school marketing strategy.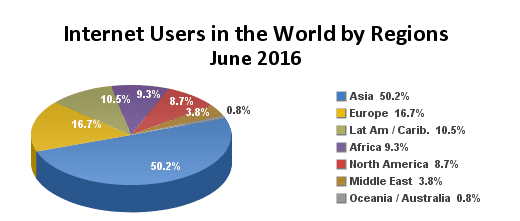 Statistics show that the global internet users are growing at a phenomenal pace. The growth rate is well over 918% from 2000 to 2016 and is expected to grow at a much faster rate in the future.

It's predicted that the global internet users will cross 4.17 billion by 2020.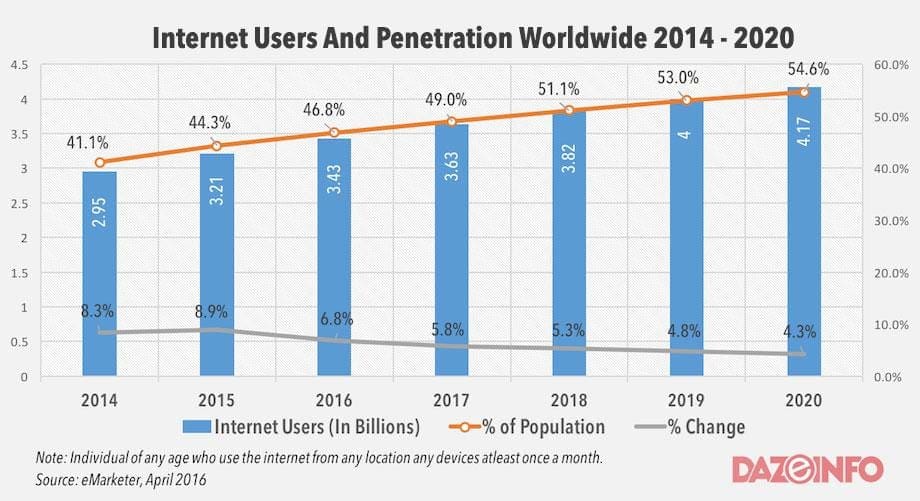 Is your plumbing business prepared for the change?

If not, there could not be any better time to embrace the change.
Common challenges faced by plumbing companies
Do you know the biggest marketing challenge that your plumbing business is facing at the moment?
For a plumber, it could be inadequate clients, which can be caused by several factors. The following plumbing marketing challenges are generally faced by most of the HVAC companies in general:
1.   Not realizing the importance of marketing
In the words of the co-founder of Gold Medal Service, Michael Agugliaro, who helped his HVAC company earn $190 million in revenue in last 10 years from 126K:
"I think one of the biggest misconceptions today in the minds of business owners is what business they are in. They say it's about customer satisfaction. But really, every business is in the business of marketing."
Take his words – every business is in the business of marketing.
This is the mindset that will win clients for your plumbing company.
The challenge for plumbers is that they don't realize how crucial it is for them to invest in marketing. Understanding the marketing needs of your plumbing company isn't enough, but where and how to promote your business is what's actually needed.
Over 74% of consumers rely on social media to make a purchase decision, while 8 in 10 people are influenced by the social media posts.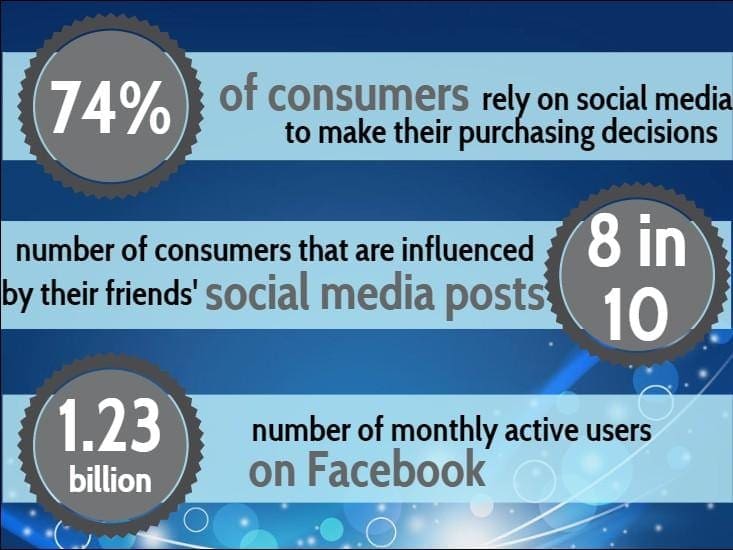 Your potential customers are already on the social networks such as Facebook and Twitter. Some 58% of Facebook users have liked a brand page on Facebook, 39% have tweeted about a brand, and 41% of consumers have shared at least one link, video, or a story about a brand.
On the other hand, plumbing companies only spend 4 to 6% of their annual revenue on marketing.
As a plumber, you have two things to do here:
Understand that marketing is important. You are competing with hundreds and thousands of other plumbing businesses globally. Promoting your business is the only way to thrive.

Understand the importance of digital marketing. Billions of people on the planet use the internet regularly. Trust me, it's hard to run a successful plumbing business without leveraging the internet.
2.   Not having a marketing plan
Simply understanding the need for marketing a plumbing business will not do anything, but having a workable plumbing marketing plan is needed.
Statistics show that 77% of plumbers do not have a marketing plan or a marketing strategy. This leaves them clueless as to what's working and what isn't working.
A marketing plan shows you what should be done, how it's to be done, when it's to be done, and how it has to be monitored.
For example, you have been investing lavishly on guest blogging for the past three months. How will you measure the ROI?
How will you identify the traffic, leads, and sales that were generated from these guest blogs? How will you decide if you need to increase, decrease, or stop guest blogging?
A marketing plan will give answers to every single marketing question that you and your team may have.
3.   Generating traffic and leads
This is a big challenge for plumbing companies.
Once you have a plumbing website and you're ready to reach your target market with the help of the internet and social media, the next big challenge is generating traffic and leads.
Generating traffic and leads is reported the top marketing challenge faced by businesses and marketers. According to the 2016 State of Inbound Report, 65% of businesses reported that their biggest marketing challenge is generating traffic and leads.
You have to realize that you are competing with hundreds of other plumbing companies in the city.
Your potential clients have a lot of options to choose from when it comes to hiring a plumber. In such a situation, generating traffic, leads, and sales get hard for plumbers.
The irony is that most of the plumbing companies do not have a website and the ones that do have, they struggle to generate traffic. There are a whole lot of ideas and strategies to use for increasing traffic and leads that are discussed below in the next sections.
4.   Misusing marketing budget
Statistics show that over 77% of plumbing contractors spend as much as half of their annual marketing budget on Yellow Pages ads. While this technique used to work extremely well in 2002 but today, it's not considered smart marketing spending.

Even if you have stopped spending on Yellow Pages ads, there are still many places where channelizing your marketing budget is the need of the time.
Unfortunately, most of the plumbing contractors do not know where and why they have to spend their marketing budget.
For instance, reports show that 82% of consumers open emails from businesses. Is your plumbing business using email marketing to send personalized emails to your clients?
5.   Measuring marketing ROI
Assuming that you have been spending money on Yellow Pages ads, have you ever tried calculating the ROI of your marketing campaign.
I'm sure you never had.
In fact, the 2016 State of Inbound Report shows that proving and measuring the ROI of marketing activities is the second biggest marketing challenge that businesses face. Over 43% of businesses reported it has the second biggest marketing challenge.
If your plumbing business is unable to measure the ROI, you are not alone in the sinking ship.
This sounds to be a good news. but it might become a bad news for your company in the next few years.
Because ROI calculation tools are taking the industry by storm.
Create a marketing plan for your plumbing business
Since not having a marketing plan is the biggest challenge that plumbers face, so it'd be a nice idea to start by creating a marketing plan.
A marketing plan, according to Wikipedia, is part of the marketing strategy. The marketing plan is a document that lists the marketing objectives and how the company will meet these objectives in a given time period.
It shows where your plumbing business will be after a certain number of years.
A documented marketing plan gives direction to your plumbing company. It has six stages, namely:
1. Your company's current standing
2. Understand your target audience
3. List marketing goals
4. Develop marketing tactics to reach marketing goals
5. Set marketing budget
6. Track and monitor the progress
A marketing plan will solve most of (if not all) the major marketing challenges that your Plumbing business is facing.
1).  Your company's current standing
Start by understanding and developing the current standing of your business. It's termed as situation analysis.
The purpose of situation analysis is to answer one question:
Where are we now?
The best-known technique for situation analysis is SWOT Analysis that lists the strengths, weaknesses, opportunities, and threats of your plumbing company in a matrix.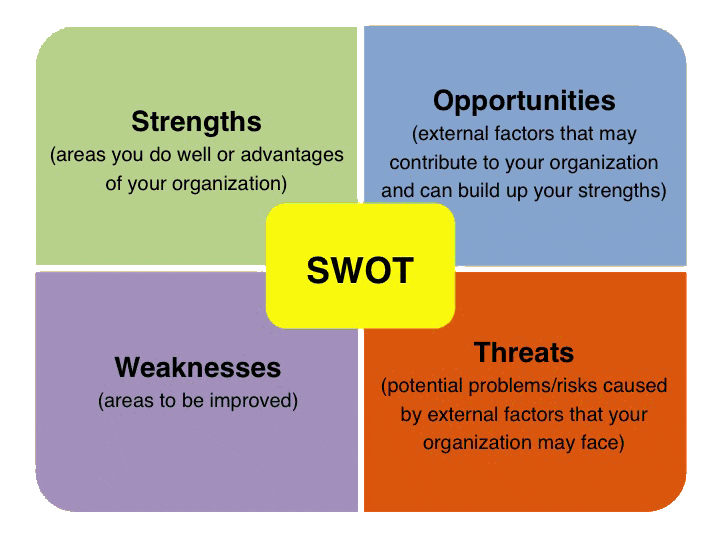 SWOT analysis analyzes your customers, competitors, and your products. You might need to collect data from your customers and you might have to spend on market research to see what your competitors are doing.
Let's simplify what you have to do here:
Identify the strengths of your plumbing business. What is the single thing that your company does better than your competitors?

Identify weaknesses of your business such as lack of funds, inexperienced staff, etc.

Identify opportunities in the market. Opportunities are derived from outside factors such as acquiring a plumbing business or collaborating with an HVAC company.

Identify external threats that your plumbing business faces, such as changing state laws or entry of new plumbers.
You will have a document listing the current situation of your business, where it can move easily, and what are the challenges that it is facing.
2).   Understand your target audience
Create customer profiles that represent your ideal customers. These are known as buyer persona, which list all the available information about your target audience,  including:
Background

Demographics

Goals and challenges

Hobbies and interests

Fears

Objections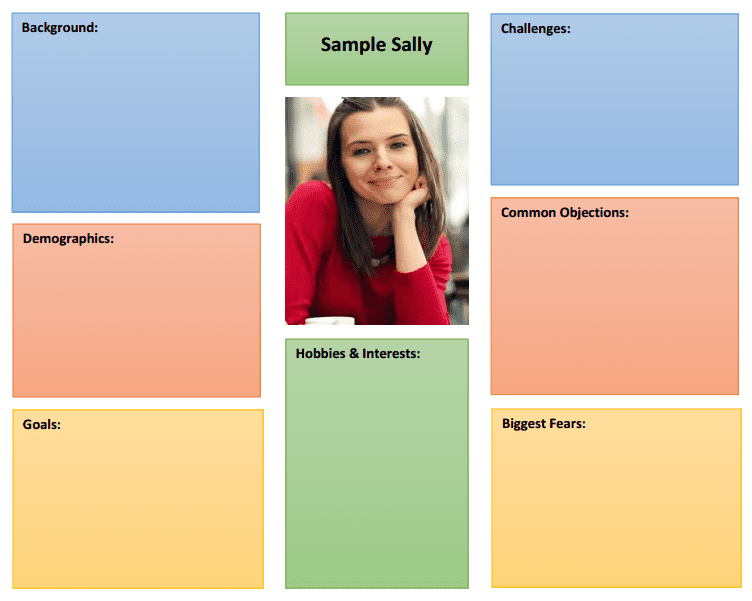 Creating these fictional buyer persona requires time, resources, and intensive market research. Thanks to Gregg Thomas Towsley who identified 6 types of buyers for plumbing companies:
i).  Homeowners
Homeowners are your primary clients. These are cost-sensitive and slow decision makers, who own a home, and use Facebook and Google reviews a lot.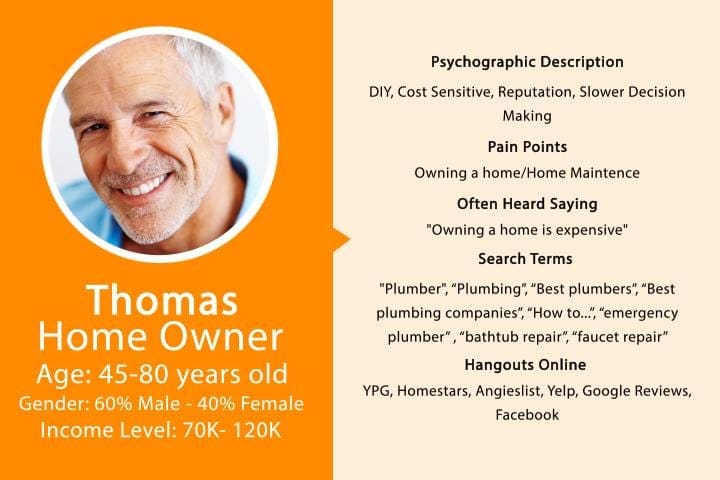 Homeowners use search engines to find plumbers. The most common keywords they use should be a part of the persona.
ii).  Small business owners
A lot of small businesses need plumbing assistance and they need it fast.
Think of a small retail store in your town with a plumbing issue. Do you think the owner will give you a week to fix the issue that is costing him sales and customers? Not at all.
These are your customers that need to get their issue fixed instantly. They're not cost sensitive at all – rather they are time and speed sensitive.
Small business owners are more likely to use Yellow Pages to find your company besides using search engines.
iii).  Real estate agents
Of course, real estate agents are always in need of plumbers. These are your most crucial clients because they can keep you engaged for years.
Janet needs a reliable and responsive plumber she can trust. She needs a fast and responsive plumber who can take care of her client's plumbing issues. She uses the search engine, Twitter, Facebook, and Yelp to find plumbing companies.
iv).  Property and facilities manager
Jessica is a type of plumbing client who is interested in a long-term business relationship with your company.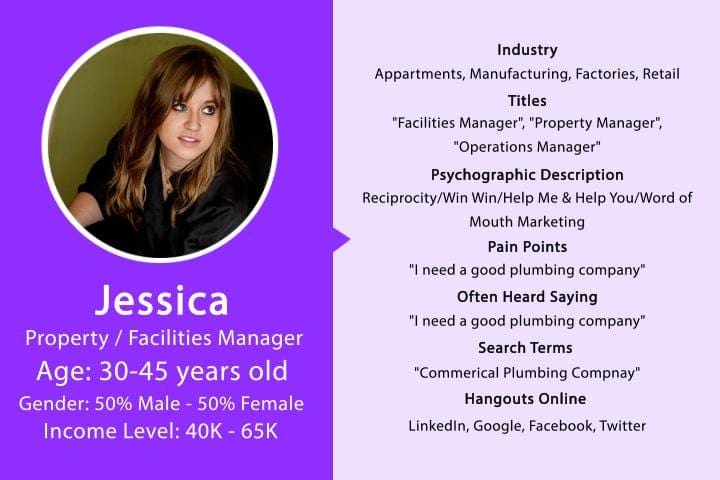 She is the type of client who's interested in a reliable plumbing company that she can trust on, refer to other businesses, and help her clients in property and manufacturing industry solve their plumbing issues.
Truth is, your plumbing company needs this type of client badly, because they can provide several partnership opportunities.
v).  Restaurant owner
Restaurant owners are always in need of a plumber for on-going projects.
Francesco is a restaurant owner who is looking for a plumbing company for efficient services right on time. He is a client who needs his restaurant issues fixed instantly.
If he likes your responsiveness, services, and efficiency, you will continue to serve him for years.
v).  Other contractors
George is in need of 'lead sharing partners'.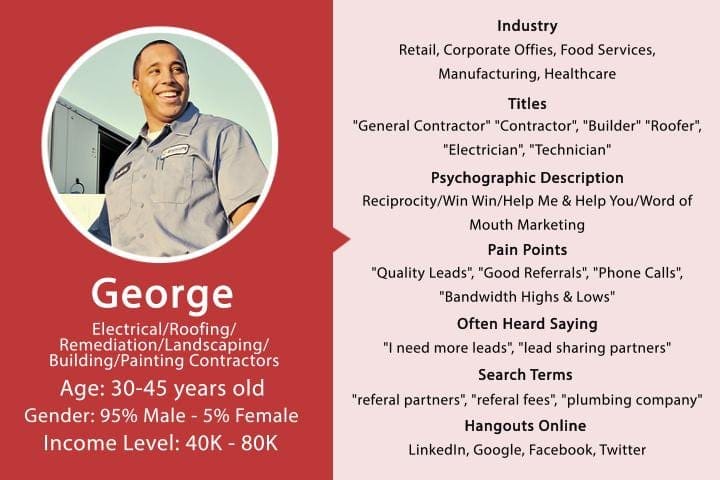 As a plumbing company, you always need to partner with the right contractors such as electricians, roofers, etc. Such partnerships generate leads for both parties, thus creating a win-win reciprocity.
George is the type of client you should partner with.
These personas will help you list specific marketing goals and target each of these clients.
3).   List marketing goals
Time to list marketing goals based on the situation analysis and buyer personas discussed above.
What do you want to achieve from the marketing campaign?
Do you need new leads?

Do you plan to increase sales by 10%?

Do you wish to engage with the existing clients?
Statistics show that 88% of B2C marketers aim to increase customer loyalty and engagement.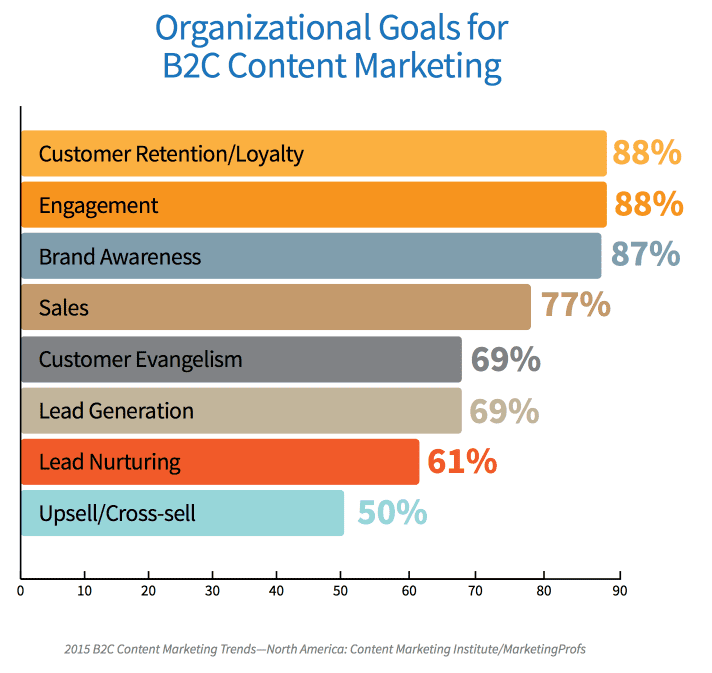 You don't have to follow the trend for your plumbing business, instead, the marketing goals should be derived from the situation analysis.
Whatever your marketing goals are, write them.
Keep them simple and measurable.
'Generating leads from social networks' is not a good way to list marketing goals. Transform them into something more challenging and measurable such as 'Generating 50 leads per week from Twitter, Facebook, and LinkedIn combined by the end of Q4'.
Make your marketing goals SMART.
Keep them specific.

Goals should be easy-to-measure.

They should be achievable.

The marketing goals should be relevant to your business objectives.

Should have a specific time frame attached to them.
4).  Develop tactics to reach marketing goals
It's the stage where you have to create a plan of action for achieving marketing goals listed in the previous step.
You can develop as many tactics as you wish but keep them manageable. B2C marketers use an average of 12 marketing tactics. It's recommended to stick to this number.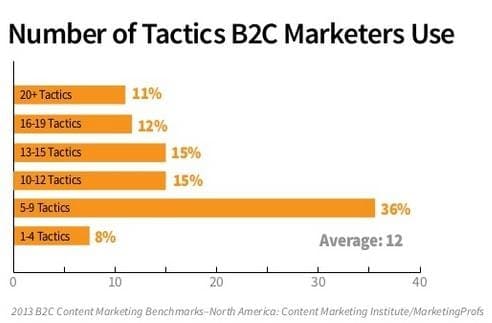 Let's assume your marketing goal is to increase organic traffic to your plumbing website by 50% in a year.
Now you have to devise an action plan to achieve this goal. Here are a few things that you can include in the tactics:
Identify keywords that different types of buyer personas use.

Optimize website for search engines.

Build high quality links @ 15-20 links a week.

Use guest blogging, infographics, videos, and business directories for link building.
Add details as much as possible.
A better strategy is to develop a complete set of instructions for weekly and monthly tasks. It has to be documented and must be shared with the team.
5).  Set marketing budget
Decide with a realistic marketing budget. The simple rule of thumb is to stick to the best practices of assigning marketing budget.
Follow these three steps to creating a marketing budget for your plumbing company:
Organize financial information based on available funds and forecasted revenue.

Link marketing budget to marketing tactics (developed in the previous stage).

If your marketing budget isn't enough, tweak the tactics to fit the budget. The budget won't fit all types of tactics therefore, you should keep tweaking marketing tactics.
For example, if you have decided to build 15-20 backlinks per week (from the previous example) and each link costs you $100. You can reduce the number of backlinks per week if it doesn't fit well with your marketing budget.
6).  Track and monitor the progress
This is perhaps the most crucial stage of the marketing plan development process.
Monitor your marketing plan in real-time and tweak the tactics accordingly. For instance, if you realize that ranking for a specific keyword is tough because a couple large brands are now using it as their focus keyword, you should instantly remove the keyword and replace it with a less competitive keyword.
If you don't do it, you will keep spending money to rank for the same keyword and at the end of the year, you will not achieve your marketing goals.
Here are a few tips and ideas for tracking and monitoring the progress of the plumbing marketing plan:
Monitor your marketing plan, tasks, and projects on daily basis.

Conduct meetings regularly with the marketing team or agency.

Review progress monthly or bi-monthly.

Stick to the plan. Refrain from making too many changes to the actual marketing plan.

Do not make unnecessary changes.
10 Plumbing marketing ideas to acquire new clients
How do you deal with the other marketing challenges that your plumbing business is facing right now?
How can you prepare your business for the future?
The following 10 plumbing marketing ideas will help you put your business on track:
1.   Design a responsive website
Morten Hjerde with his colleagues analyzed 400 devices that were sold between 2005 and 2008. You can see the huge difference in screen sizes and resolution.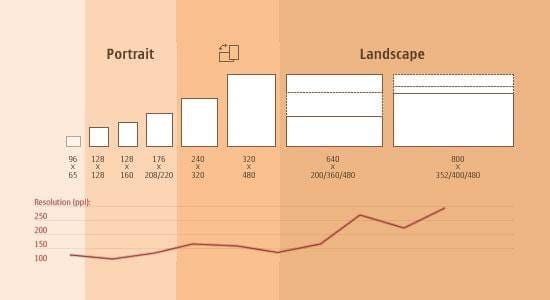 Creating a website for every device separately do not seem to be a wise decision. A single responsive website is what today's plumbing companies need.
A responsive website design is an approach that suggests that design and development should respond to user's behavior based on orientation, platform, screen size, and other factors.
Make your plumbing website responsive so that it automatically adjusts itself based on the user's device.
Why?
Because your customers use a whole lot of different devices to access your plumbing website including mobile phones, laptops, tablets, smart TV, and other devices.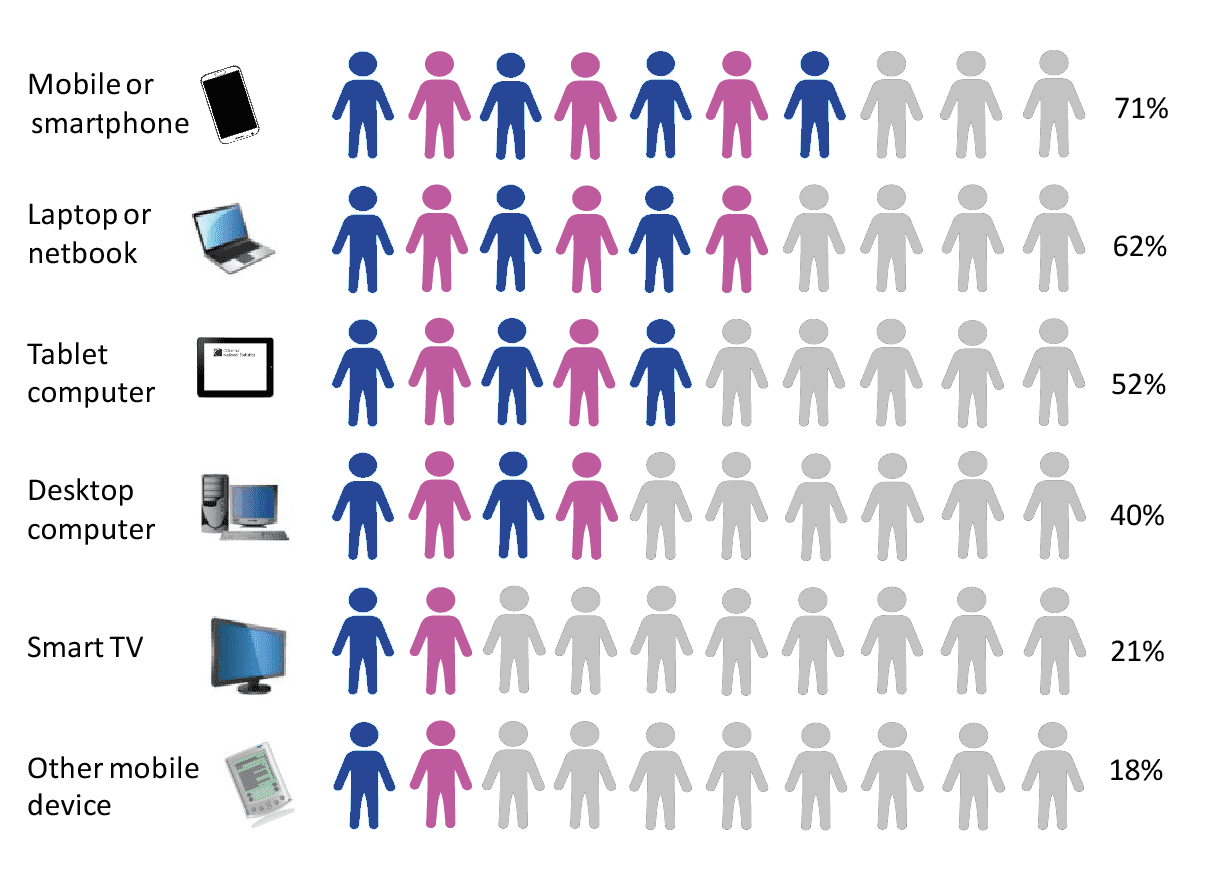 Make your website accessible by making it responsive if you really want to get new clients. Some of the major benefits of a responsive plumbing website are:
Increase in brand awareness by 34.7%

Increase in revenue by 19.7%

Increase in website conversion rate by 10.9%

Increase in visitor engagement by 7%

Increase in average order value by 5.1%
If there is a dead simple way to acquire new clients for your plumbing company, it is to make your website responsive. Period.
2.   Harness the power of social media
Are you using social media to attract new clients and to engage with the existing clients for your plumbing business?
If not, the following infographic will make you realize what you have been missing. It briefly shows what happens on the internet every 60 seconds and how it has changed from 2013 to 2015.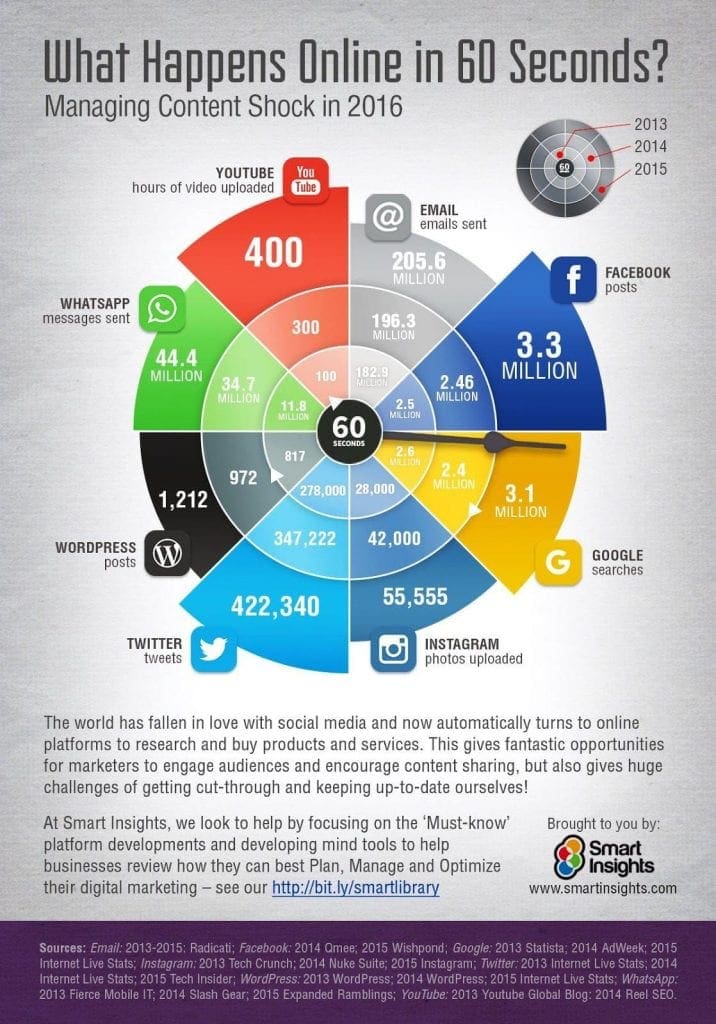 According to Google, nearly 60% people talk more online than they do in real life.
Using social media for gaining new clients is easier than ever because people are already talking about something on these sites. It could be your company.
It has been reported that businesses that used social media for lead generation resulted in an increase in 24% revenue.
Here's how to develop a social media strategy for generating leads and getting new clients for your plumbing company:
What is your target audience interested in. What type of content do they engage with on social networks? Which social networks do your target audience use?

What are their actual problems (already discussed above)?

Determine how to turn followers into buyers.
Here are a few suggestions and tips on using different social networks for lead generation:
Facebook: Start a contest. Create events. Use apps to capture the email addresses of your followers. Create a professional Facebook page.
Twitter: Use Twitter cards. Create events. Use brand mentions.
Instagram: Read and respond to comments. Use videos. Use hashtags.
LinkedIn: Offer free services. Create plumbing promotions. Use SlideShare.
3.   Make your plumbing company unique
Plumbers offer similar services. There isn't much to differentiate but there is no way to gain new clients without making your company unique and better than your competitors.
To differentiate your plumbing services from your competitors, refer back to the SWOT analysis where you identified strengths for your company.
Choose one or more strengths of your plumbing company to differentiate it.
Are you best at plumbing repair?

Does your company specialize in offering 24-hour services?

Is your company cheapest in the town?
American Plumbing Co. has clearly stated 24-hour emergency service on their website that makes them unique.
The Plumbing Company represents themselves as 'affordable plumbers'.
Once you identify a few unique features of your brand, you can use them to promote your plumbing company and to acquire new clients.
Samuel Edwards suggests four ways to differentiate your business in a congested marketing environment:
Pursue alternative pricing strategy (premium price, low price, etc.).

Partner with related businesses and make it your competitive advantage.

Innovate your product and/or services.

Introduce customer-centric culture.
4.   Join your local HOA
Joining your local Homeowners Association (HOA) is a proactive approach of gaining new clients for your plumbing company. Homeowners Associations are always in need of individuals and companies that can provide them emergency services.
Most of the HOAs do not have a plumber on the list. This is your chance.
Contact your local HOA and ask if they have a plumbing company associated with them.
If they already have someone serving them, you can offer them special package and/or discount.
The idea is to participate in local meetings and be active in your neighborhood so that people know you and your company.
5.   Look for partnership opportunities
RightNow Plumbing has a dedicated page on its website. Anyone who is interested in joining hands with them can call them or send an email.
You should keep scanning for partnership opportunities because it helps businesses acquire new customers, innovate, and automate business operations.
The best type of business partnership for a plumbing company is that complements your business. Charlie Brock who is the founder of Launch Tennessee says:
"Ideally, your business will have diverse talents and a range of experience, including business partners with complementary skill sets. Having different strengths and weaknesses will make for a better partnership and will give your company the experience it needs."
For example, if you don't have any experience in industrial plumbing services, then partnering with an industrial plumbing company that has the experience in home plumbing will benefit the both of you.
6.   Focus on local marketing
Over 73% of all online activity is local. Local marketing should be a part of your company's marketing plan so that when a potential buyer searches for a plumbing company from his home, your website shows high in search results.
Consumers find desired businesses from both smartphones and computers. Some 54% of consumers search businesses from their smartphones during business hours.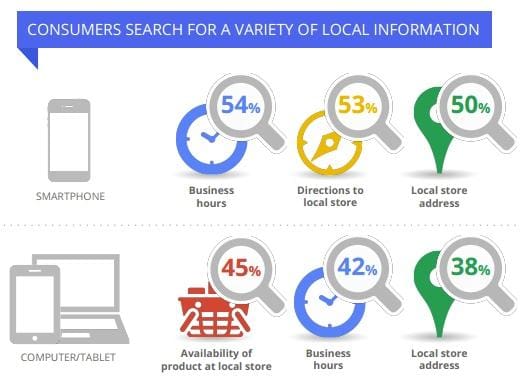 According to Google, 18% of local mobile searches lead to a sale within one day.
Will you still ignore local marketing of your plumbing website?
Here are a few top local marketing ideas for plumbers and plumbing companies:
Have you listed your business on Yelp? Are you using the most appropriate category? Yelp uses categories to show results so if you have selected a wrong category for your plumbing business, it will not show in search results. Better recheck it now.

Use Facebook for local advertising. Facebook is a beast in terms of local advertising. A simple website click campaign or a post engagement campaign on Facebook targeting a specific geographic location (or zip code) will generate leads.

Create guides for locals. Promote the guides with Facebook ads. This is one of the best techniques that will help you create authority and boost brand awareness. How about creating a local weather specific guide for homeowners every week?
Use local call-only ads for smartphones. This will allow target audience to find your plumbing company in search results, and they will be able to call you instantly without having to visit your website.
Create detailed radius location targeting in AdWords to make sure your ads are shown to the people that are near your office. This will increase the number of walk-in clients because people use their smartphones to search plumbing companies and if someone near your office runs a query, your ad with the address will popup.
7.   Start a YouTube channel
YouTube is the second largest search engine after Google. If this doesn't compel you to start a YouTube channel for your plumbing company, nothing else will.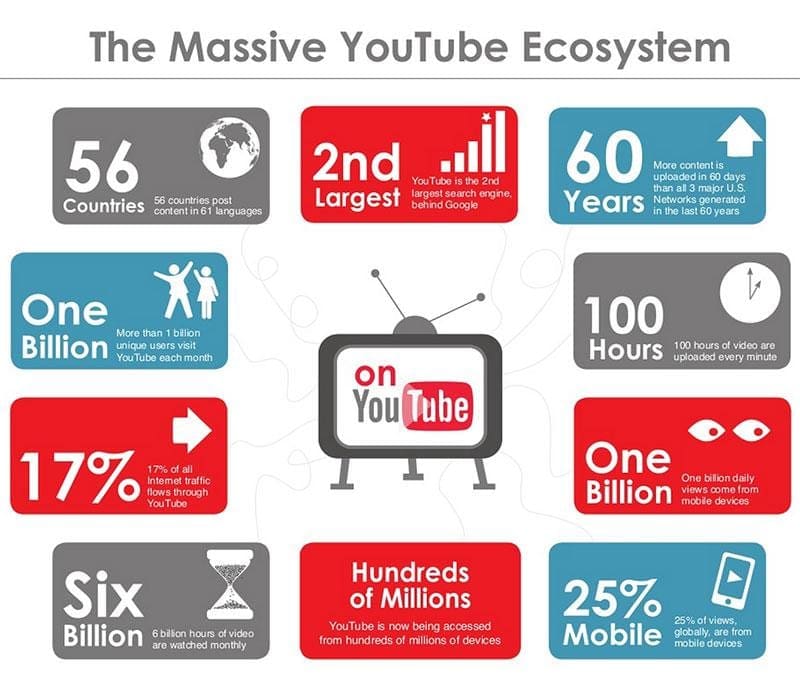 It is not just about search but your potential clients love videos. People who have watched a video of your plumbing company are 85% more likely to become your client.
In case you're struggling to push your website to Google's first page, posting a video on the landing page will increase its chances of reaching the first page by 53X.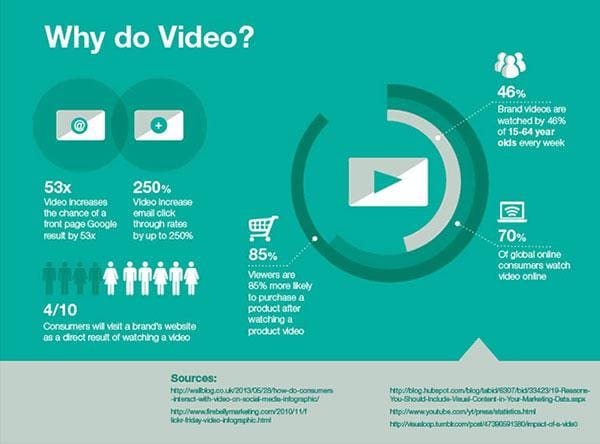 A YouTube channel will increase brand awareness, generate leads, help you acquire more clients, and will help you engage with your audience.
You can post video tutorials, DIY tips, customer reviews, or you can upload videos of you working on a project. There is no need to invest in a camera and video editing tools. Use your smartphone's camera and free video editing tool like OpenShot.
The guide to creating a YouTube channel by Quick Sprout is a perfect starting point.
8.   Build email list
Are you building an email list for your plumbing company?
You should. Because email marketing has a monstrous ROI of $44.25 for every $1 dollar spent.
Earning $44.25 for every dollar is not a bad deal for a plumber, right?
Plumb Works Inc. ran an email marketing campaign for a month that resulted in 19 new calls. Twelve clients scheduled services from these 19 in that month.
These are easy 12 customers on autopilot. You can get new clients too.
Here's how to get started:
Start building an email list. This is the first step. Use opt-in forms on your website. Create squeeze pages to build the email list of potential buyers.

Create a free report or a guide that will be used as a lead magnet to build your email list. This valuable free report will be sent to the people who enter their email address as a gift.

Segment subscribers based on demographics and other variables. This will help in sending customized emails.

Set up autoresponders. You have to send emails to the subscribers based on their response, clicks, and other activities. For instance, those who downloaded the lead magnet should be pitched with another guide and those who subscribed via Facebook page should be sent an email to follow you on Twitter.

Send emails regularly to your list. Send them newsletter, discount coupons, special offers, guides, valuable content, and other interesting material.

Refrain from sending too many promotional or sales emails. Keep the number low.
9.   Take blogging seriously
How often do you publish on your company's blog?
Statistics show that blogs that publish posts 16+ times a month receive 3.5 times more traffic and 4.5 times more leads as compared to companies that published 4 or fewer posts a month.
Start publishing 16 or more posts a month to generate leads for your plumbing company.
Need more traffic and leads, publish one post a day. Companies that publish posts every day get five times more traffic than companies that don't post daily.
You can write blog posts for your blog yourself or you can hire a professional blogger. The choice is yours but the idea is to make sure you stick to the plan.
Create an editorial calendar. It will help you generate meaningful content at the right frequency.
Publish different types of content including:
Articles

Videos

Podcasts

Infographics

Images
Once you start publishing posts, promote them to reach your target audience. Along with the blog you should also invest in a good plumber seo program.
10.   Submit your plumbing company to business directories
Most of your clients don't use local business directories to find you, but it can still send new clients your way.
How?
When your plumbing company is listed on some top local business directories, it will be found by search engines quickly. Besides, you get a backlink from every directory. These backlinks improve search engine rankings of your website and its pages.
You will still receive traffic and leads from these directories. According to a survey, 93% consumers purchase from a local business after visiting Yelp.

Having your plumber website listed on Yelp means business. You never know when and how a potential client may find you via a business directory. Don't underestimate local business directories.
HubSpot features a list of 50 online local business directories. Listing your plumbing business on these 50 directories is quite enough.
Plumbing marketing case studies
a).  Morgan Miller Plumbing
Morgan Miller Plumbing started investing in social media in 2011. Since 2012, the company has increased its revenue from $1.7 million to $2.7 million in 2015. They attribute their success to social media marketing.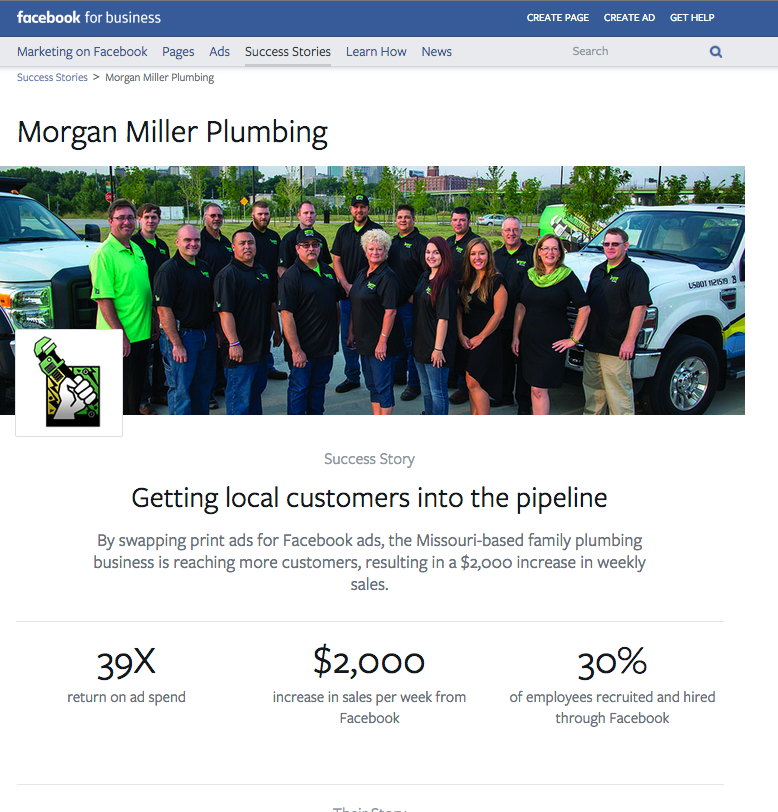 Their Facebook ad campaign had a massive ROI of 39x with $2000 increase in sales per week.
b).  S&D Plumbing
The S&D Plumbing increased their annual revenue by $1 million after implementing social media and digital marketing campaigns. In three years, the company generated over $4.1 million in revenue.
They just didn't invest in social media but they invested in SEO too. Their website moved to Google page one for several keywords.
c).  Your Friendly Plumber
Your Friendly Plumber increased its leads from 5-10 per week to 5-10 leads per day. These phenomenal results were achieved by local targeting, optimizing the website for Google Places, running AdWords campaign with a focus on retargeting, and used multiple landing pages for testing.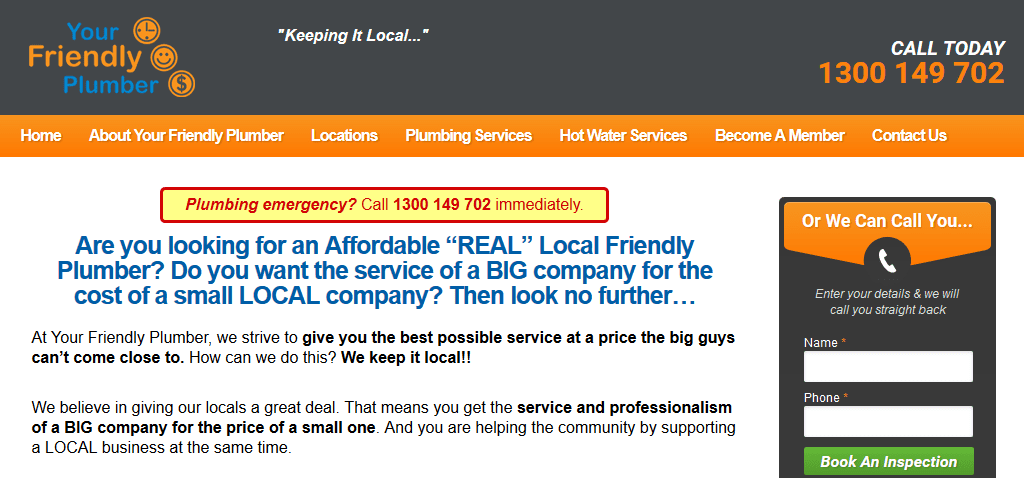 The following results were achieved after running AdWords campaign for 90 days:
Leads increased by 600%.

Website traffic increased by 130.34%.

Organic traffic increased by 40.33%.
All in all, I am sure you now know what you have to do with your plumbing company to generate more leads and convert them into clients. Stay consistent. And focus on retaining clients, by providing excellent work and answering their questions.
As a northern Virginia based website design firm we ensure that of our plumber client websites have these 50 features as well.