Steps to Take After Receiving a Link Warning from Google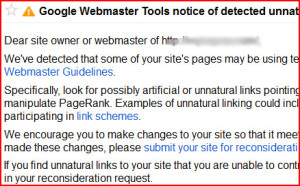 It was once thought that Google had the secret powers to tell you what it thought of your website. Although it has become a bit more transparent about its practices lately, a lot of this is still true. Google's aim is to provide its users with the best search results and to do so, it needs to share what it is looking for with the owners of websites.
Google's algorithm makes links a very important – not only the quantity of links but the quality of them too. Many sites try to 'game the system' and Google does not condone this behavior  Sometimes, website owners are not aware that what they are doing is not so correct and so Google has started to send out notifications to warn webmasters to alert them when unnatural links are detected. These notices do not always mean that a penalty has occurred, they serve as a FYI. However, if you notice that traffic to your site has had a huge drop at around the same time you have received a notification, it is very likely that you have been handed a penalty for an unnatural link.
Follow these steps to remedy the situation:
Create an inbound link list
You should have a list of all the generated links if you have been link building actively. This is a good place to start to see where you have gone wrong. There may be a case where other links have built up without your knowledge and for this there are SEO tools that can help you get a report on all inbound links. A free tool you can use is Google Webmaster Tools. This will provide you with a report. It is also recommended that you use some paid tools like Majestic SEO which can give you a better set of links.
Manually [pwal id="47570173″ description=""]
analyze the list
When you have a complete list of your site's inbound links, you need to manually visit each link and conduct an SEO link audit to see which ones are bad and could have been the cause of your penalty. Reach out to the owners of the site once you have found these damaging links and ask them to remove it. Keep track of this because you may need to reach out again if need be. Although this takes loads of time, it could save your website. You may want to also ask Google to disavow some inbound links but you may have to follow specific process to do it. If you have been penalized by Google and would like to disavow some links and need help on it then feel free to contact 99MediaLab, a SEO DC company.
Create quality links
A good defense is the best offense and you must use this mantra when you build links that point to your site. Good links will always outweigh the bad ones and Google always looks at an overall link portfolio. Sometimes, after doing everything to get rid of a bad link, it will still exist; so spend you time creating and sharing excellent content that will negate the effects of the bad links.
Create great content
To achieve target SEO, creative, original and fresh content is of utmost importance. This way, you will generate natural links that people will share on social media and this will have a positive effect on your social signals. If you become known for providing good information, your content will always result in quality links pointing back to your site. This will be viewed in positive light by Google.
With all this information, you now know how Google thinks and how you can make a difference to your site, because your competitors are also doing the same.
[/pwal]