8 Common & Costly Website Mistakes You Don't Want to Make
There are some very important things you should not overlook when you are designing or redesigning your website. Some errors are very costly to make! Here is a checklist of common mistakes to avoid:
1. Your site doesn't look right on phones.
12% of global Internet traffic is from mobile phones today, and the figure will only go up. Your website is not worth a lot if you don't have a mobile version and you will end up losing out on a growing number of mobile users who use their phones for searches. Go to Google's GoMo site and perform a simple test to see if your site is mobile friendly.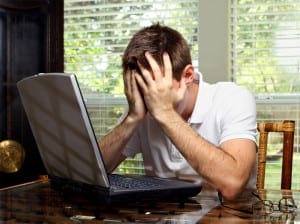 2. It has too much flash.
As cool as Flash is for pictures, it does not work as well with searches and with Apple devices. If your business relies on searches to be found by a potential client, or if people who use iPhones or iPads, don't use too much flash on your site or you won't be found.
3. You've over optimized it for search.
You will be tempted to pack up your website with keywords and keyword hyperlinks, but you may just end up with an SEO nightmare. Put yourself in the shoes of a visitor; if it looks like too much to you, it probably is to others too.
4. Your content is [pwal id="47571772″ description=""]
boring.
Images, videos, graphics, downloads, polls and other interactive things on your site give your visitors a good reason to stay on. Boring, dull text will not do that!
5. You forgot a 'call to action.'
Chances are that you will hire someone to market your site. What do you want visitors to do when they are on your site? Don't forget a 'call now', 'ask for a quote' or 'register for more info' tab on your site so your visitors take some action.
6. You left off or buried your contact information.
There would have been many times you would have visited a site to find a contact number but are forced to complete a form instead. Did this make you suspect the legitimacy of the company you were contacting? Chances are people will feel the same way if you direct them to a form when they want to contact you. Make all your contact information (phone number included) very easily accessible. Some companies have it on every page.
7. You skipped social-media content or tools.
Today, if you don't have some aspect of social media on your site; be it a Facebook page or a Twitter account link or YouTube videos, your website will look like it's from the 1940's. Make sure you are linked to at least one social media platform where you are interacting with your users.
8. You didn't register in local search directories.
If you don't want to pay a lot for advertising, take advantage of local resource directories such as Yahoo Local, Google+ Local, Yelp and many others. This is especially helpful if you do a lot of business locally.
For more resources check out this great guide on website design.
[/pwal]