Banquet Hall Case Study – Web Design and Development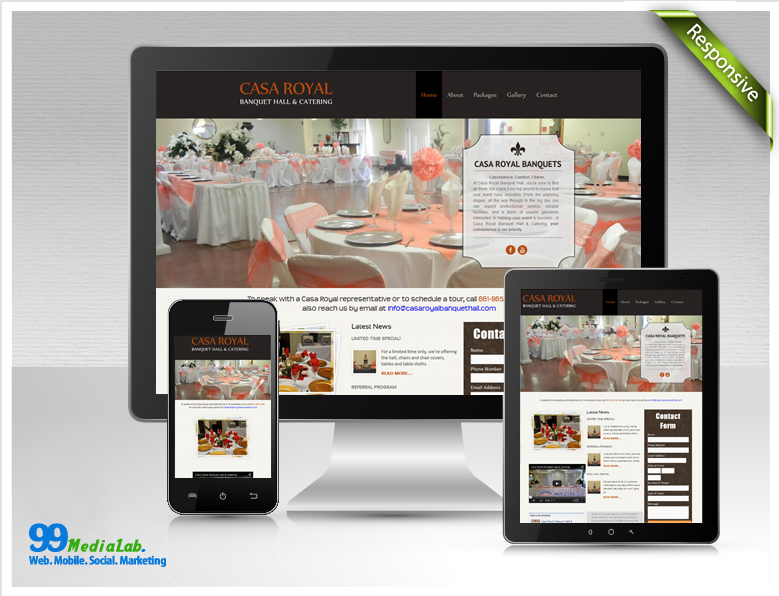 Website Design & Development:
Casa Royal Banquet Hall
Casa Royal Banquet Hall is a Bakersfield, California located full Service banquet hall reception, catering and event management company. They are passionate about all clients, no matter how large or small the group size and can take care of all event needs, activities, dine around coordinating, VIP Gala receptions and much more.
We were proud to be selected to develop a powerful and scalable website for Casa Royal Banquet that showed their brand in a better way. The old website was built on flash, the design and the effects were outdated, and was not accessible on iphone and mobile devices. In today's market this made it very difficult for the owners to get new business and leads.
Our Process:
We started this from scratch, diligently carrying out each phase of our web development and design process, from logo design and Wireframe, to Mockup, to Development and integrating a CMS. This project was a great success attributed to our agile team of designers and developers and responsive owner of the Banquet Hall. Elements of the website including call to action buttons, trustworthy testimonials and videos were strategically designed and placed to not only maximize the user experience but also to increase leads.
Features of the Website:
Our goal was to develop a mobile responsive, cross browser compatible and a search engine friendly website for Casa Royal Banquet Hall. To accomplish the following features were added to the site:
• Content Management System: As always we like to give control of the website to the business owner. To do so we developed the website on a WordPress content management because of its simplicity, scalability and easy to manage and maintain without needing technical experience. Along with important plugins like Yoast were added to make the search engine friendly.
• Mobile Responsive: One of the biggest problems with the previous website was that it was built using Flash and hence was inaccessible on mobile devices. And with more and more customers now using mobile and tablet devices to browse the websites it was very important for us to develop a mobile responsive website which is also recommended by Google. We therefore developed a completely mobile responsive website that worked across all browsers and scaled across all the different devices automatically.
• Search Engine Optimized: Our standard protocol is to develop websites with in-built on-page search engine optimization. By choosing appropriate web page urls, permalinks settings of wordpress and using the power of images and content on various pages we were able to achieve all the on-page search engine optimization for the website. Along with that our SEO team was able to integrate and optimize the sitemap and robot.txt files to make it easy for the search engine to index the updated site.
• Social Media Integration: With more and more consumers now on social media networks we integrated the social media networks, buttons and blogging feature into the site. Our designers strategically placed social media buttons to link facebook, youtube and Google+ pages on the website to increase social media pages exposure.
• Lead Generation Forms Integration: The main goal for the website redesign was to increase the number of leads through the website. Our designers and developers developed and integrated lead generation forms and strategically designed them to increase the conversion from traffic to form submissions. Our team also integrated Google Analytics to track the website traffic and behavior to be used in future marketing campaigns.
Casa Royal Banquet Hall Website Design project had been an amazing experience for the entire 99MediaLab team including designers, developers and SEO strategists. Please go through the screenshots on this page and also take a moment to browse through the website yourself.
Services Delivered: