Century Distribution Systems Case Study – Web Design and Development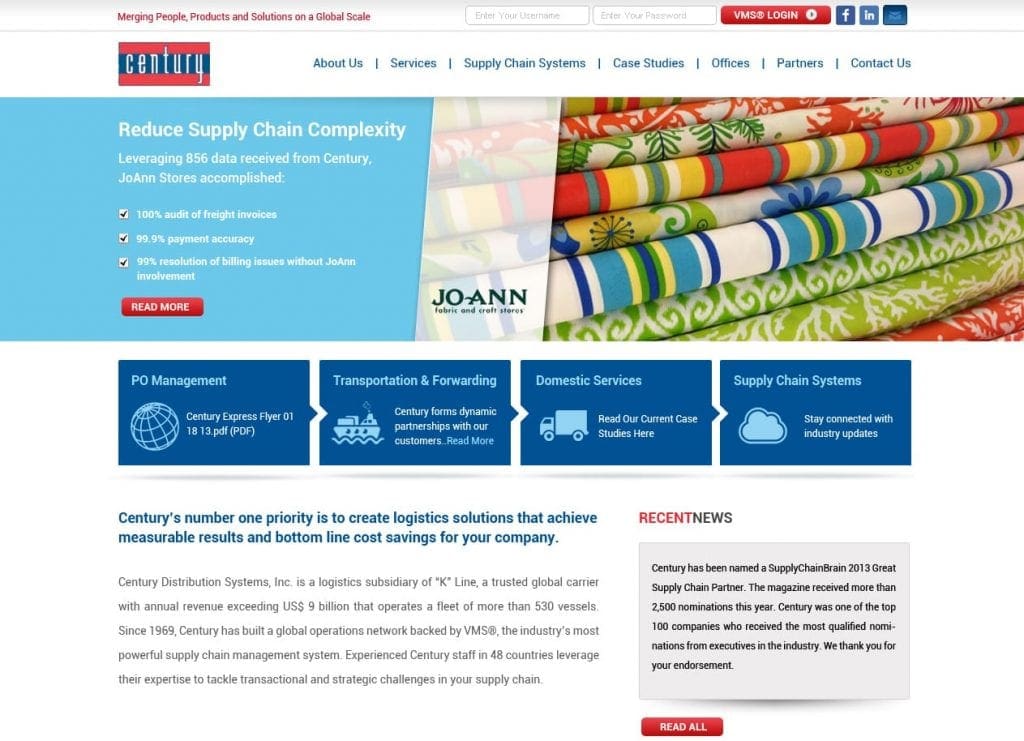 Website Design & Development:
Century Distribution Systems (CDS)
CDS, a Virginia based B2B business offers third-party services and Supply Chain IT solutions in the logistics industry. Their business operations are defined by high-value placed on customer satisfaction, which in turn compels CDS to work innovatively.
CDS has clients and partners across the globe. It was a privilege for us at 99MediaLab when we were chosen to redesing and redevelop an intuitive website for the company that further solidifies their credibility on the internet. CDS offers a variety of services like PO management, vendor management, and freight consolidation. Hence, the company needed a website that single-handedly promoted these services over the internet and brought in new customers in a streamlined manner.
Our Process:
CDS is an established name in the industry, and they operate in 48 countries. The challenge before us was to represent CDS's true image on the internet as well. The main thrust of the website was content representation, as CDS needs to define its services clearly. The content in turn has been presented excellently using various elements like images and web buttons.
Features of the Website:
It is our policy at 99MediaLab to not only develop websites that rank higher on search engines, but we also integrate social features to companies a marketing leverage to our clients. But most importantly, we design all websites to be user-friendly so that our clients can manage and update them without relying on overt technical knowledge.
• Content Management System: We use the WordPress Content Management System simply because it easy to maintain. But this simplicity doesn't come at the expensive of any design flaw. On the contrary, the WordPress CMS is highly flexible and customizable. Apart from this, we have also integrated sign-up forms for newsletters that will help CDS to further connect with their customers.
• Mobile Responsive: Nowadays, mobile responsive websites are vital if businesses want to cater to a wider market. That is why the CDS website has been designed in a way to be accessed by all types of users, regardless of the device.
• Search Engine Optimized: Regardless of the industry, all businesses need a good SEO strategy to fully reap the benefits of online marketing. The same is true for the CDS website as well, where we have used several features for increasing traffic. There are multiple internal links, which ensure that visitors spend a significant amount on the website. The website also prompts for membership, which means additional hits will be generated whenever someone logs in.
• Social Media Integration: Social media integration was necessary for a global company like CDS. This is why we integrated facebook, twitter, linkedin and newsletters to allow the company gain maximum online exposure.
To sum up, developing a website for CDS was a great learning experience for us at 99MediaLab. We were not only able to create an intuitive interface, but were able to give the CDS brand a true online image that it deserved.
Services Delivered: