Effective
Social Media Marketing

for

Car Dealerships

and

Auto Repair Shops.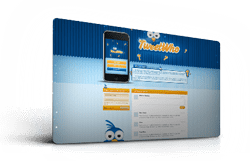 Stand Out –

Online.

Build and Retain

Trust

Display service and product – knowledge.

Stay

Competitive
Stand Out Online
How do you attract and retain customers to your dealership or auto repair shop? It starts with having a strong automotive social marketing strategy. Social media marketing is a powerful tool that lets you reach out to your customers on a daily basis. Being in the know about new cars on the lot, having instant access to car sales, specials or services – when your clients are in the know, you will be the first they turn to for a new vehicle or auto service. 99MediaLab has a targeted approach for automotive social media that is guaranteed to increase traffic to your website and storefront locations.
Building and Retaining Your Customers' Trust
Trust is a very big word in the automotive world. Vehicles are an investment and the safety of the driver and their families depends on the quality of automotive service received. Our car dealer social media plans and auto repair social media strategies increase transparency between your company and your clients. Through dealership social media, the lines of communication between you and your valued clients are always open. You can respond to questions on Facebook and Twitter, post photos of the newest vehicles and instantly reach thousands in the event of a car or product recall. With auto repair social media, you can remind your patrons when it's time to change their tires, inform them of available upgrades and keep them abreast of the latest car industry news. Automotive social media allows you to inform, educate and communicate; the hallmarks of building trust between you and your clients.
Be The #1 Place They Think Of
Car dealership social media and auto repair social media campaigns present a set of unique challenges that 99MediaLab will help you overcome. We will make your establishment stand out, whether you're in the business of selling cars or keeping people's vehicles in top shape. Our strategies are designed to keep you as the #1 choice for your demographics' automotive needs.
How Do We Do It?
99MediaLab knows that each business is unique. To develop the right automotive social media marketing campaign for you, we start with research. We research your business, your competition and your industry. The comprehensive social media plan we developed will include only the media that is most beneficial to you. We make your advertising dollars go far by appealing to your target demographic on the media they prefer to utilize.
Our in-depth knowledge of Facebook, Twitter, Instagram, Pinterest and more allows us to customize a plan that includes content posting, community management, brand awareness, online reputation management, and much more.
Don't Get Left Behind
Automotive social media marketing is the key to staying on top in this very competitive industry. Partnering with 99MediaLab is smart way to effectively manage your online marketing campaigns.