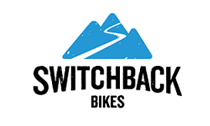 Switch Back Bikes
"After 30-days…21% increase in website traffic…128% increase in sales!"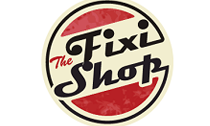 The Fixi Shop
"99MediaLab Team been awesome to work with and have delivered results rapidly at a reasonable price!"
Real Results Achieved for Real Clients
For Our Small and Local Business Clients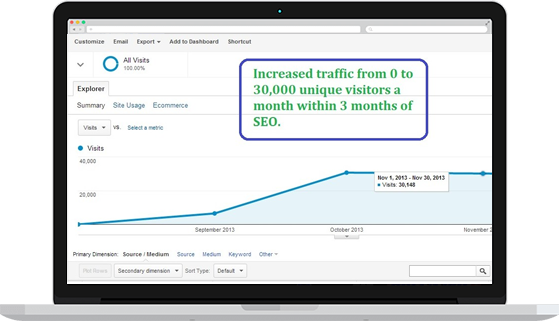 We Increased the Traffic from 0 to 30,000 Unique Visitors a Month
By executing a well-planned and prepared SEO campaign, our team was able to increase search engine traffic of a new website from 0 to 30,000 unique visitors a month resulting in increased revenue and profits for the client.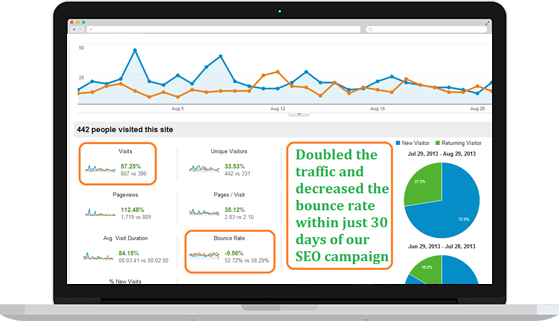 Increase Traffic by Over 50% for a Photographer and a Videographer
Our targeted Local SEO campaign for this local photographer resulted in increase in traffic by over 50% within just the first month of our SEO campaign. The new traffic was so targeted that bounce rate decreased by over 10% as compared to the last month.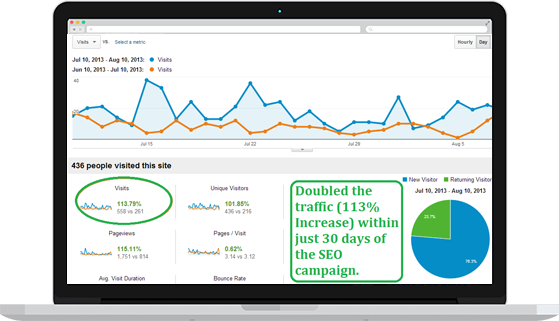 Doubled the Traffic for a Local Technology Company
Our targeted Local SEO campaign for this tech company resulted in double the website traffic within just the first month of our SEO campaign. The client also saw an increase in the page views by over 100% as compared to the previous month. This resulted in increase in traffic, sales, and revenues.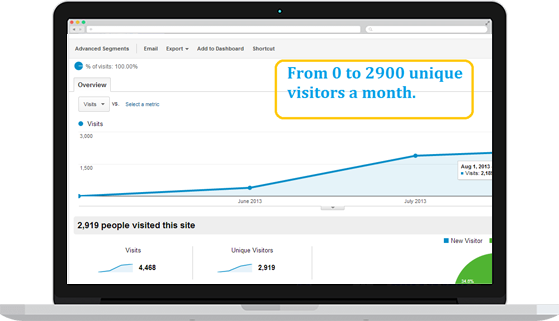 Increased Unique Visitors from 0 to 3,000 monthly visitors for a Local iPhone Repair Shop
This Texas based local small business came to us with a new website with no online presence. Within 3 months of our SEO campaign, we increased the targeted traffic from 0 to nearly 3,000 unique monthly visitors. This resulted in increase in new customers, new leads through phone calls and increase in referral business for the client.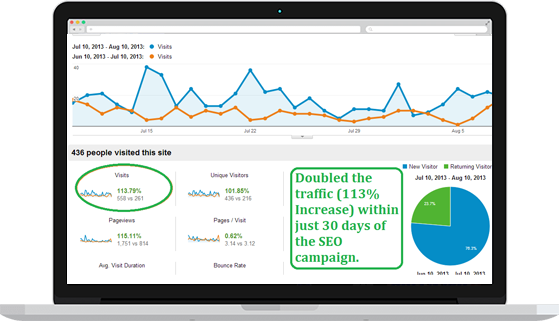 Increased Website Traffic by Over 35% Within the First Month
This small business providing phone system and phone installation services to small businesses came to us with a challenge of not getting any traffic from the search engines and had to rely heavily on PPC Ads. With the help of our SEO campaign targeted at local businesses we were able to increase the traffic from the search engines by over 35% within just the first month of the campaign.
Our Top Level SEO Strategy to get
First page Rankings on Google



Comprehensive On-site SEO

Websites need to be search engine friendly for it to rank higher. We would make the site search engine friendly by writing appropriate titles and descriptions of the pages




Social Media Optimization

We live in an online social world and consumers are on social media networks. As part of the campaign we would optimize your website for social media networks




Guest Blog Posts

We reach out to other established bloggers and convince them to write a blog post for your business and website




Article Writing

We would write content and keyword rich articles for your business and get you great backlinks




Press Releases

We write and distribute press releases for your business every month




On-site Blog Posts

Google likes websites with fresh content. We would write and manage your website blog




Local Directory Submissions

Google looks for local citations when ranking local businesses. We would submit your business to various local directories (yellow pages, manta etc.) to get local citations




Comprehensive On-site SEO

Websites need to be search engine friendly for it to rank higher. We would make the site search engine friendly by writing appropriate titles and descriptions of the pages




Sitemap and Google Webmaster Tools Installation

As part of the campaign we would install and optimize your sitemap and Google Webmaster Tools
Local SEO: Are the Right People Finding You?
A local SEO strategy is the most effective way to market to a centralized audience within a specific geographical area. It gives local businesses like yours tremendous power of promotion to local customers where they are and at the exact moment they are looking for your type of business.
Through a combination of optimization for search engines, like Google, and directory services, like Superpages, Yelp, TouchLocal, and many others, a huge potential audience is waiting to find you. In fact, millions of people every day find products and services they want through the aid of local SEO. Businesses that employ it well reap huge rewards for their efforts.
Eliminate the guesswork from your local marketing strategy. Local SEO is a hyper-targeted way to put your brand in front of new customers right now and every single day. If your website isn't optimized for local SEO, one thing is clear: Someone else is getting your customers. Here are a few reasons why you should be using local SEO to help you build your business online:
The Local SEO Search Is On!
Over the past five years, the number of mobile searches for local products and services has increased dramatically. The most rapid rise in these numbers has occurred within just the past year. That means that every day, more people are turning to their phones and tablets to find the things they want and need. Are they finding you in the numbers that they ought to be? They could be if you had 99MediaLab managing your local SEO.
Highly Targeted Marketing
When done right, local SEO is the single most efficient way to target the exact demographic that is most likely to use your products or services. Print and traditional media cannot zero in on a specific audience, but a well-conceived local SEO strategy can and does.
Highest Conversion Rates
More new business is generated through local SEO than through any other means. This is true of all kinds of businesses, and it doesn't matter how small a niche you serve. Local SEO puts your brand and your message in front of the people who are most likely to respond. With that kind of targeting power, it's no wonder why it nets more new leads and sales than any other marketing strategy, online or offline.
The World Is Going Mobile
The number of new mobile users is increasing by the day. In fact, mobile devices now account for nearly half of ALL web activity. That means that half or more of the searches for products and services that happen every day happen on a mobile device. Local SEO coupled with an up-to-date responsive website is a recipe for fast success, and 99MediaLab can help with both!
Superior ROI
Not only is local SEO highly effective, it's also cheap. Save money on traditional advertising and even CPC/PPC traffic by developing a solid local SEO strategy with the help of the local SEO experts at 99MediaLab. You won't find a better return on your investment anywhere.
Your Competition is Under-Utilizing Local SEO
According to Google, only about 10% of all businesses currently claim their own Google Places local listings. We can help you determine if yours has been claimed and claim it if it has not. The number of businesses actively implementing local SEO is also small enough to give yours some serious leverage.
Traditional Advertising Is Going Away
Print, radio, and TV ads are on a rapid decline as more and more businesses look for cheaper, easier, ways to advertise, and that means advertising online. Local SEO is one of the best ways to stretch your advertising dollar and reap tremendous rewards for your investment.
Your Customers Read Reviews
Today's consumer is more likely to trust an online review written by a stranger than any other endorsement. That is why it is so vital to leverage the power of online reviews to create a strong local SEO strategy. We can show you how and also get all the pieces in place.
The experts at 99MediaLab have helped countless numbers of satisfied clients boost their businesses and gain maximum exposure through the successful implementation of local SEO.
Even better, we guarantee that you will see clear and measurable results, and we will not stop until we have met or exceeded your expectations. We stand behind the work we do 100%, and we are totally and completely committed to your success.
To find out more about how your business can benefit from local SEO, fill out our contact form and speak with one of our expert consultants today!
Frequently Asked Questions & Answers