Effective
Facebook Marketing

Plans and Strategies for

businesses

and

startups.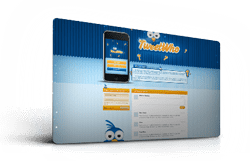 Facebook is a Powerful Way to Talk and Listen to Your Customers
Facebook marketing for business has now become an industry standard as part of an effective overall marketing strategy or campaign, and creating buzz on the busy social scene can mean the difference between success and failure. Effectively integrating social media advertising strategies such as Facebook marketing, companies both big and small have recognized this as an increasing and important way serve up relevant and real-time information.
Access a Global Market
Social media platforms provide a perfect opportunity to do more than just market and advertise. Media such as Facebook truly connects people with the places, people, and products that matter most. Facebook provides a near limitless opportunity to get these conversations started and keep them going to achieve maximum and long-term exposure to one of the largest potential audiences on the planet.
The benefits go both ways. When you use our customized Facebook marketing plans for businesses, not only do you have direct access to a global market, you get to see and know your clients like never before. What are they saying about your products and services? What are you doing right? What do they want more of? Where can you improve? The reader's posts on your Facebook page will provide the answers you need.
The 99medialab Solution
In today's world, successful Facebook social media marketing plans must include interesting, dynamic, and current information to grab and hold people's attention. That is why 99SoicalMedia creates effective Facebook marketing plans for businesses looking for social savvy solutions done right.
The experts at 99medialab will help propel your social media presence to new heights with our effective Facebook marketing services. First, we develop personalized plans by extensively researching your business, including your industry, its patterns and trends, as well as your competitors. Knowing your business inside and out allows us to customize your best approach and presentation. From here, your solution begins to take shape. More than a just Facebook marketing firm, we aim high to provide the best in quality. From initial introduction, to consistent content posting and ongoing community management, we bring it all together with a seamless plan to secure your trust and confidence.
As a first-class Facebook marketing agency, we continually strive to remain your number one choice in marketing solutions by understanding your definition of success to help achieve your goals. We increase conversation to build brand awareness and maximize your social media exposure. Delivering direct solutions on Facebook for small business or bigger industry players, our reputation depends on your satisfaction and success.
Today's market demands the best in marketing plan design, development, and integration into a comprehensive strategy for success and sustainability. Let our expertise and experience start the conversation.