With our
Social Media Marketing Services

, we can make your business

social media friendly.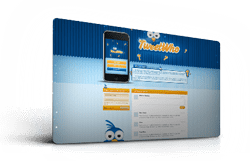 Social-Media-Marketing-Services
Curious what we do? Do you like to know what our services are about? In simple words, we do social media marketing for businesses who want to garner the benefits that social media provides. From creation to expansion, we manage your company's entire social media presence. Our task is not complete unless we meet our client's expectations.
Social media platforms carry powerful information like people's views or opinion on various topics and using these channels, you can increase your company's brand visibility immensely. We offer the some of the best social media marketing services.
Our core social media marketing services include:
Facebook Business Page Marketing/Management
Facebook marketing service is our forte. Facebook has turned out to be the juggernaut of social networking. A simple "like" can offer you immense benefits for your business. Facebook can keep you close to your friends but more importantly it keeps your business a legitimate and ongoing presence – a better way to interact and connect with your customers, receive feedback, and spread your budding reputation.
Twitter Account Marketing/Management
One tweet can change the world and so does to your business sale. Twitter helps you to promote your latest additions, promotions, offerings to your customers instantaneously. We have a team of marketing and management specialists who will help you expand followers' list and connect with customers on a daily basis.
LinkedIn Company Account Marketing/Management
Most people don't usually realize the use of LinkedIn. LinkedIn beyond the usual uses can make small businesses even more successful. We can help you use it effectively. LinkedIn can raise awareness of businesses, build valuable networks, get updated with the latest and pertinent industry information. You will find new talents and connect new customers or clients.
Foursquare Business Page Marketing/Management
Foursquare is not just another nice app you can add to your collection. This platform combines business marketing with user-driven reputation applications. With the rise of smartphones, it has become vital to get your business get noticed on Foursquare. We'll help your business get noticed.
Blog Maintenance/Management
We will put it simple. People love to read blogs and you need to feed this hunger they have by updating new blogs. Few misses can cost you real bad. Our job is to help you enliven your blog and make it magnetic to your customers.
If you need a social media marketing plan for your business, we have the best solution for you. Call today!
Facebook:
Once we know your company and target customers, here is what we can do:
Facebook Page:

Design and develop your business's initial facebook page.
Set up your facebook page's custom landing page including videos, photos and email sign up form.
Maintain your business's facebook page with regular updates.
Develop a strategy to help increase your number of facebook likes.
Increase engagement with your current facebook fans and have a social virtual conversation.
Develop your online brand based on our conversation with you.
Monitor your business's facebook page's posts (deleting spam posts and having conversation with other brands).
Reply to facebook posts by users on your business's facebook page.

Provide you with weekly detailed report.
Facebook Applications:

Design and develop custom facebook applications (games, contests, give aways, quiz etc.)
Maintain these custom applications to increase engagement among current users.
Facebook Places:

Integrate Facebook Places if you have a physical business locations.
Drive online engagement with customers arriving at your physical locations using check-ins.
Generate viral effect for your locations using facebook check-ins.
Facebook Deals:

Integrate Facebook Deals for your current fans on facebook and provide them customized coupons.
Facebook deals is one of the best ways to increase your number of customers.
Facebook Analytics:

Provide you with detailed weekly report on the integration and maintenance of above features.
This report help you to generate your demographics.
Twitter Management:
We can help you to manage you business's twitter account and increase new followers and at the same time increase engagement among current users:
Develop a strategy to increase the number of targeted twitter followers of your business.
Increase engagement with targeted tweets with your current followers.
Develop your brand on twitter.
Maintain your twitter account by posting regular tweets.
Develop custom contests and give aways with current followers to increase your consumers in the location.
Provide you with detailed analytics and report on your company's twitter footprint.
If you already have a twitter account then we can do a Twitter Audit for your brand.
Foursqaure Management:
We highly recommend Foursqaure usage to business's with physical location as it allows your customers to share their check-in to your location with their friends online. We can create and manage your business's foursqaure page and help you convert online users to regular customers at your location:
 Comprehensive Foursqaure Management – We can manage your foursquare page starting from claiming your location to merging them and doing analysis on check-ins.
Foursquare Deals and Specials – We can conceptualize, create and execute specials deals on foursquare for your loyal and regular customers who would ultimately help you gain more customers.
Blog Management:
We recommend blogs for every business that has a website. Blogs help you to have an informal conversation with your visitors and we can manage your brand's blog online:
Design and develop top quality blogs for your business, brand, cause or celebrity on any platform of your choice – wordpress, blogger, tumblr etc. (we highly recommend wordpress platform).
Blog optimization – If you already have a blog then we can help you optimize your blog and increase your traffic through our optimization techniques which guarantees increase in traffic within 3 to 6 months.
Content Writing and Content Creation – We can create quality, relevant and original blog articles for your business and help you increase your exposure.
Blog Analytics – We can provide you with a detailed report on your blog traffic – who is clicking what and where they are coming from. We will provide you with a comprehensive report on your business's blog.