With our
Web Design, Development, Marketing

and

Branding

services, we can take your business to the

next level.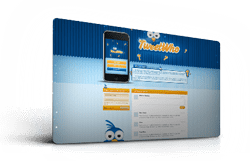 Social-Media-Marketing
Forget SEO or PPC, suddenly everyone is talking about Social Media Marketing. Believe it or not Social Media has become the bigger budgets in online advertising. In this era of great authenticity and transparency, social media delivers a new standard of interacting person to person. They offer a direct path of contact between you and the audiences thus opening a huge opportunity for businesses to find and attract new clienteles.
The growth of online giants like Face book, Twitter, MySpace & Flickr has brought a new competition to the virtual arena. Social Media now presents a whole new archetype of promoting and selling online.
Will Social Media Help YOUR Business?
Definitely! Through Social Media, you can communicate with your customers directly, build both trust and desire and they will definitely buy from you. You can also create a base of loyal fans and update your customers whenever new products and services come up.
Social Media when used in the right spirit can be a powerful marketing tool. Not only does it help to get people buy your product but help you to develop huge and important network of strong relationships. It is also an exciting and quicker way of getting the exposure you need. Moreover there are many platforms like Facebook, Twitter, MySpace, Bebo or Google+ you can use to promote your business.
We can help! 99medialab can help to create a marketing strategy through online social media marketing whether it is for occasional marketing campaigns or to establish long term relationship with your clients.
Call us today and we can have a chat about your business!