Dental Smiles Unlimited
"I worked with this company for the complete re-designs of our websites: dentalsmilesunlimited.com and smilesaverspedo.com. I think they did an amazing job. They were effective at taking our ideas and suggestions and creating the websites we needed. They are easy to reach and respond promptly. We are very satisfied."
General Dentistry & Sleep Apnea
"99MediaLab is a pleasure to work with. Fast & professional. Just tell them what you want and they'll make it happen. Importantly, 99MediaLab continues to serve their customers well after the initial project is complete. This really sets them apart from the others. We will be a repeat customer for further design and marketing projects."
Recently Completed Dental Website Projects
For Other dentists and doctors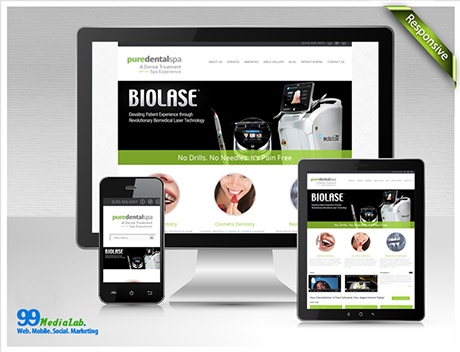 Pure Dental Spa – A Bloomingdale, IL based dental practice
99MediaLab team was contracted by Pure Dental Spa to redesign and redevelop the website for their dental practice that should not be mobile responsive but also scalable, social media friendly and search engine friendly. The creative team at 99MediaLab was up to the challenge.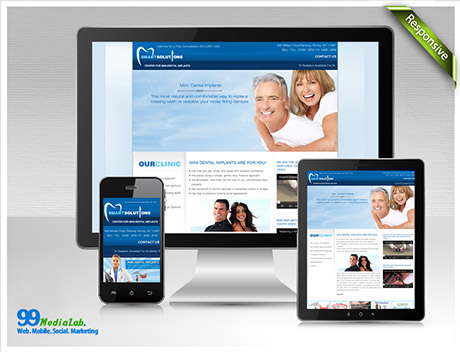 Smart Solutions Dental Implants – New York based dental implant clinic
99MediaLab was selected to design and develop then website Smart Solutions Dental Implants who have been providing unparalleled dental services since 2013 to countless patients who have benefited from their skills, expertise and state-of-the-art dental equipment.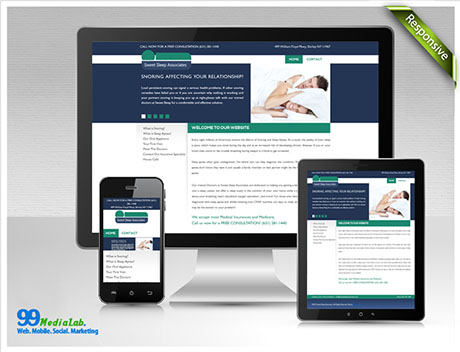 Sweet Sleep Associates – A New York based sleep apnea clinic.
99MediaLab designed and developed this website for Sweet Sleep Associates who have been providing their services to patients suffering from Obstructive Sleep Apnea (OSA), which is a common disorder in which the patient stops breathing while they are asleep.
Your New Dental Website: A Great Reason to Smile
Are you opening a new dental practice? Are you looking to develop your first website for an existing practice? Is your old website not sending the right message about you and your services to the community?
If any of these things apply to you, 99MediaLab is here to help. Our team of expert developers has helped countless numbers of professionals in all kinds of businesses achieve greater success. We do this by positioning your site among the top-ranked with search engines like Google and make it easy for the right people to find you.
If your current website has not been updated recently, odds are good that it isn't optimized for the search engines or for the audience you wish to attract. Here are just a few reasons why you should be considering letting 99MediaLab design a winning website that will be the focal point of your successful marketing initiative in your community.
Attract New Patients with Responsive Dental Website
Every day, people in and near the area(s) you do business are looking to find a new dentist. Whether they find you has everything to do with the quality and design of your website and its content. The days of the yellow pages are over. Today's patients rely on computers and mobile devices to find everything, and many of your potential new patients are searching right now for a local dentist. Let 99MediaLab help them find you with a dental website design service!
Target a Younger Demographic With Your Dental Website Design
Looking to develop a patient base that will provide years of steady income for your practice? If so, you need to start targeting a younger demographic. Your new dental website will help younger patients find you, and you can customize your site to set up initial consultations and appointments for new patients, freeing up time for your office staff to manage and care for all of your patients better.
Unique Branded Design
Promote and build a brand image for your practice that integrates with social media as well as a variety of printed promotional materials (also available through us).
Fully Customizable Dental Website Design
Your dental website from 99MediaLab will be unique in its presentation and design. Choose from a vast store of quality custom templates or tell us how you want the site to look, and we will help make your ideal vision a reality.
Fully Responsive Design
Your new dental website will be easy to view on any device, both desktop and mobile, and will work seamlessly with tablets and phones running any of the most common operating systems, including iOS, Android, and Windows Mobile. Let 99MediaLab create the ultimate user experience for your patients when they visit your site.
Email and Text Integration
Give your patients the added convenience of email and text integration. Send out appointment reminders and have patients confirm via either reply email or SMS text. Capture email addresses and send marketing emails to alert patients of specials on premium dental treatments.

Local Search-Engine Optimization
High rankings with the search engines are just the beginning. Our team of SEO experts can create for you a customized, powerful, and effective optimization strategy that will help local people in need of your services find you right away and before they find your competition. Let us show you how local SEO can drastically increase new patient inquiries and intake and help you build a solid patient base for your practice.

Scheduling and Messaging Integrated into Your Dental Website Design
A new dental website from 99MediaLab will help you automate a number of processes that are currently taking up the valuable office time of your staff. Give your staff the opportunity to provide better, more comprehensive care by freeing up the time it takes to schedule or reschedule appointments. These things can be done quickly and efficiently via phone or PC at any time, creating a 24/7 atmosphere of quality care for your patients.
Social Media Integration
Let 99MediaLab create a dental website for you that integrates seamlessly with all your social media accounts while maintaining your brand message and brand image without compromise.
Expert Blogging Design
The most successful and searchable websites have an active blog. Let us design a blog for your site that will help boost SEO and increase those all-important page rankings in Google and other search platforms.
Your Satisfaction Is Guaranteed
We offer a 100% satisfaction guarantee on your dental website. Your site will look how you want it to look and function how you want it to function – no excuses, no exceptions. We offer unlimited changes and revisions until you are completely satisfied with the results, and we are here to offer expert advice on the planning, building, and maintaining of your site. To learn more or to get started building your new, customized, fully responsive site, fill out our contact form and speak for free with one of our expert design consultants today.
Frequently Asked Questions & Answers