Effective
Social Media Marketing

for

Hotels

and

Motels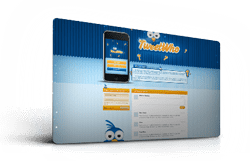 The Need to Engage in Hotel Social Media Marketing
The American Hotel and Lodging Association reports the lodging industry generates over $20 billion annually in pre-tax sales. With over four million guestrooms nationwide and an average 60% occupancy rate, the need to make your hotel the one of choice for travelers is paramount. Glossy print ads in magazines and expensive television advertising spots will make travelers aware of your brand, but it is the right hotel social media marketing strategy that will convert them into paying clients.
A Targeted Approach
Different hotels serve different needs and have different roadblocks to overcome when striving for a full house. Large, high-end hotels focus on presenting themselves as a conference and lodging venues, whereas a small bed-and-breakfast requires a hotel social media strategy that emphasizes excellent service for individuals and couples. Hotels that cater to business travelers promote their business centers and early checkout times while the hotel that runs from a renovated historic building focuses on drawing in the leisure traveler. The social media hotels send out to prospective guests plays a vital role in helping guests choose the hotel that suits their needs. That is why you need a target approach – a hotel social media campaign designed specifically for the type of guests you want to attract.
Know What Your Guests Want
99SocialMedia understands that happy guests are the lifeblood of the hospitality industry and we are here to help you design a tailor-made hotel social media campaign to bring you the customers you're looking for. Hotel social marketing is more than just advertising; it's a way to connect with guests and better understand their needs and desires when they're away from home. We employ hotel social media monitoring strategies to find out what your guests are saying and whom they're saying it to. This gives you the option to customize your promotions, which in turn lets guests know that their needs are your top priority.
Put our Expertise to Use
Hotel social media is a complex field that demands a complete understanding of the many varied aspects of the industry. That is why 99SocialMedia performs a course of in-depth research on your hotel, your competition, and the industry within your demographic. Armed with this knowledge, we create a hotel social media strategy that accounts for your needs and the needs of your guests. We don't stop there! We implement and oversee the plan on your behalf. From content posting to forum management, brand awareness to online reputation management, our hotel social media monitoring allows you to focus on your guests while we handle every aspect of your online marketing plan.
When you serve guests who got to know your hotel through social media before they arrive, you know you're providing them with exactly what they were looking for in a hospitality experience. 99SocialMedia will help you form the connections that keep guests coming back.