Customized
Social Media Marketing

for

Restaurants and Delis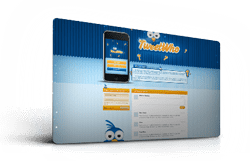 Tapping into an Established Market
How did you hear about your favorite restaurant? Chances are you heard about it through a friend or someone that enjoyed a meal there. As evidenced by the popularity of apps and websites such as Google Places and Yelp, people love to check out recommendations and reviews before they go out to eat. This is precisely why social media marketing for restaurants is so vital. Your patrons are already using social media to post, tweet and blog about where and what they ate. When you engage in social media restaurant marketing, you direct the flow of the online conversation – and direct your audience right through your restaurant doors.
How it Works
You have more control than you realize over what people say about your restaurant online. Sure, you can just rely on your great food and outstanding customer service and hope they will say good things, but by being proactive, you take your business to the next level. The possibilities are endless! A rainy day? Tell your followers that soup's on – come and get it. Hot and sunny? Invite them for a refreshing drink on the patio. A new chef? Your followers would love to hear that news. When your followers see a post about the fresh lobsters that just arrived in the kitchen or your new summer salad menu, they are going to retweet or share that information. With social media, restaurants have an unlimited resource to attract new customers and keep the regulars coming back.
A Plan That Caters to Your Strengths
When you work with 99SocialMedia, we look closely at your restaurant and your business model and help you design the best restaurant social media plan to pack your restaurant with hungry customers. Our restaurant social media management philosophy revolves around getting your information—prices, promotions, menus and more – out where people can see them. We believe that word of mouth is incredibly powerful when it comes to restaurants; we also know that a huge amount of word of mouth takes place online. We will create a social media restaurant strategy that will take advantage of this!
What Makes 99SocialMedia the Best Choice
You have a restaurant to run; that is your specialty. Social media marketing for restaurants is ours. When you partner with us, you get the full benefit of our restaurant social media management plan. Once we carefully research your brand, competition and target demographic, we create a social media restaurant plan that is tailored for you. We don't believe in a one-size-fits-all approach. We believe your restaurant is unique and your plans should be too. From fine dining to social media fast food plans, we cover every type of eating establishment.
We create the plan, we put it into action, and we manage your updates, your community of followers, and even help you deal with any nasty comments that may show up online about your restaurant.
Partner with 99socialmedia today for the best social media restaurant plan.