We Make
Foursquare for Business

Work for

you

and your

business.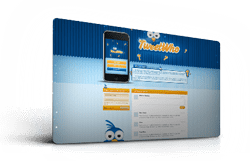 What is Foursquare?
Foursquare is a location based application that is accessible on PCs and mobile devices. The user types in a keyword such as "pool", "pizza", or "shopping". Results are displayed showing the establishments that are close to the user. When you click on a result, you see other user's comments, access additional options such as "see which of your friends have been here (via Facebook)", specific company information such as the menu, and more. The more you use Foursquare, the more personal the recommendations, deals and results become.
Foursquare for Your Business
Foursquare for Business is a powerful marketing tool that can be used to increase your brand awareness online and drive customers to your door. You are probably already on Foursquare! That's right. If you have a business listing, Foursquare likely has you in their database. However, without taking control of your listing, all you have is an address and unmonitored comments. By taking advantage of everything Foursquare for Business has to offer, you can ensure the information on your listing is correct, you can add additional information, you can see what your customers are saying about you, and you can offer special deals and rewards to Foursquare users.
The 99SocialMedia Foursquare Marketing Plan
We know and love Foursquare and that is why we can make your Foursquare listing work for you. Marketing with Foursquare is easy when you use 99SocialMedia, the social media marketing experts.
Our Foursquare small business plans provide Foursquare marketing to location based businesses. After a consultation to learn about you and your business, we tailor your Foursquare listing with all the information you need to engage new and existing customers. We handle all the updates and monitor the comments. Should an unhappy client post negative remarks, we show you how to address the situation and turn it into a positive. When you show your online community that you are actively listening and responding to your customers, you win their trust – and their business.
Foursquare for Business provides analytical feedback on who your clients are and what they are saying about you on other social media platforms. 99SocialMeida Foursquare marketing monitors these reports to ensure your listing – and your company – stays strong and relevant.
Why Wait?
99SocialMedia provides Foursquare marketing plans that will increase your web and foot traffic. It is an affordable, efficient way to advertise, connect with your clients, and get continuous feedback. Why wait? Let us show you how to use Foursquare for marketing today. Every day you are not marketing with Foursquare is a day your competition gets the business you deserve. Let us take care of your Foursquare marketing needs. Call today to see results.