Google Plus
Marketing

for you

businesses

and

startups.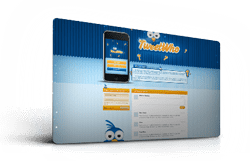 What is Google Plus?
Google Plus, also known as Google +, is one of the most powerful marketing tools on today's market; yet, few people know or understand what it is. It can be complex from the outset, but once you understand Google Plus, you will be amazed at what it can do for your business.
Google Plus adds a "social layer" across all of its functions. It starts with a profile. You need a compelling profile to show your connections who you are, your brand, and what you have to offer. Next, you add people to your "circles". Circles are groups within your contacts. For example, a user can make a "friend" circle, a "family" circle, a "people who enjoy the same movies as me" circle and so on. For businesses, however, circles take on a whole new meaning. This is your chance to organize your clients and market directly to each section of your clientele!
For example, if you are a retail store, you can make a circle for male clients and one for female clients. You can further break it down to isolate those that only buy accessories, or those that focus on dresses. Restaurants can make a circle for their lounge patrons, their lunchtime clients and their fine dining customers. You can have the same person in more than one circle.
Settings allow you to determine how much information on your profile is accessible to your various circles. You can release your address to one circle but withhold it from another.
This is just one of the many ways Google Plus can be used as a marketing tool.
Why Google Plus Marketing?
The key to marketing is to get your information in the hands of your target market. Radio, print and TV ads spread your message, but only those with an interest in what you have to offer will pay attention. Google Plus marketing allows you to communicate directly with your target market and then refine those connections even more so you communicate directly with certain subgroups of your target market. Marketing simply does not get any better than that!
Why 99SocialMedia for Google Plus Marketing?
Google Plus is a powerful resource that has the potential to transform your company. However, there are many aspects to Google Plus and to get the most out of it, you have to understand it.
We do.
99SocialMedia, the social media marketing expert, has a complete and thorough understanding of Google Plus and we know how to make Google Plus marketing work for you. Our Google Plus business plans are specifically customized to your company. The one-size-fits-all approach is not our approach. We believe each customer is unique and therefore deserves a unique Google Plus marketing solution.
Contact us today to learn how we will make Google Plus work for you as a powerful marketing tool. From creating a dynamic profile to setting up your circles to making use of Google Plus' social media layer, we will create the ultimate Google Plus experience for you and your clients. More and more people are turning to Google Plus. Don't get left behind. The future belongs to companies that embrace social media marketing. As the experts, we will create, implement and monitor your Google Plus marketing plan. If you want to use Google Plus for marketing, contact us today.