99SoicalMedia Provides Picture Perfect
Solutions through Pinterest Marketing

for

Businesses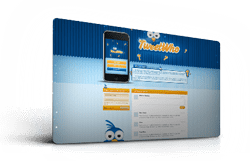 Why Pinterest?
Pictures today have the potential to be worth so much more than a thousand words. More than just a place for pretty pictures, Pinterest has become a prime visual¬ platform to powerfully create and express an entirely new and exciting marketing plan. Through photo and video sharing, Pinterest marketing allows for the creative design of personalized, stylized, and professionally polished lifestyle concepts.
Engage Your Market Through Pinterest
Because social media users now connect and share photos and images at an increasingly unprecedented rate, Pinterest is just one more effective platform to reach and exponentially expand your market, providing a unique and brand new way to bring your business into the spotlight. Current research and trends indicate that today's consumers call for quick communication, using visually appealing information. Pinterest marketing for business development and brand exposure provides a platform to create instant connections through sharing in small dose appeal, building your brand and presence onto the market.
How We Make Pinterest Work for You
99SocialMedia creates effective, custom-designed portfolios for your picture perfect Pinterest presence. Our social media experts are primed with the tools, experience, and latest information to launch and link together the most effective resources and social media platforms to design your best marketing approach and strategy. Through extensive background research of your company and your specific industry, your Pinterest portrait begins to develop and come into focus. Using effective Pinterest marketing, company logos, products, and more, your visual presence will be shared to bolster your brand recognition and increase traffic to your website.
We not only design smart, stylized, and graphically effective plans to leverage your exposure, we also integrate, connect, and manage all of your social media platforms to create a complete and collaborative approach. Through proven successful techniques and presence design for Pinterest marketing, agency experts will help you realize solutions that provide you with a strategy for success.
Using a variety of social media platforms, like Pinterest for small business needs or corporate clients looking for larger-scale solutions, we'll help you explore and identify what eye-catching and exciting opportunities exist. Marketing strategies today call for the creative expertise and most up-to-date information from the experts found at 99SocialMedia. Contact us today to help you bring it all into focus and find your success.