With our
Web Design, Development, Marketing

and Branding
services, we can take your business to the

next level.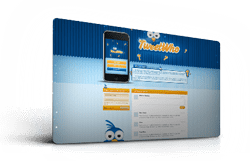 Social-Media-Marketing-Alexandria
Are you aware of small businesses in Alexandria using social media to thrive? Imagine the whole of Alexandra talking about your product or service. That will sure direct them at your physical and online store. But how do you make it happen?
Today people are influence by the opinions and views of their closest friends and social is a great way to share, view and set new trends. Customer engagement and click through can dramatically increase through social media ads. Social media is an extremely powerful marketing tool.
Participating on the social web is easy but to get through the customers, you need to do it in a meaningful way. Social media helps you to create a personal interaction between a brand and the customers. But a wrong move can cause you big time. There are many pitfalls of social media you need to avoid. What you really need is an expert's help.
If you have a brand to promote, we will help to spread that message to a larger audience more quickly. We have the expertise and personnel to handle all your social media needs. Our social media marketing experts in Alexandria and Northern Virginia will be more than happy to help you. We are a one stop solution for all your social media needs. All you need to do is contact us and tell us about your business and you goals. We will create a bespoke Alexandra social media marketing campaign that suits your business and your pocket.
Contact us today!