With our
Web Design, Development, Marketing

and Branding
services, we can take your business to the

next level.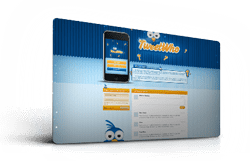 Social-Media-Marketing- Washington-DC
There is no need for us to tell you how important and powerful social media has become to propel your business in today's era of marketing. Everyone in this planet knows it. If you are still oblivion about this, you are missing out BIG.
If you feel you are left out in this social competition and need an expert's hand, our Washington DC social media marketing service division is just the right answer.
99SocialMedia has been providing social media marketing services for companies in Washington DC. We specialize in empowering online business through the social media marketing providing clients to succeed and flourish online.
We understand the impact of social media and how it is changing the way we connect and reach out to people.  We have an in-house Washington DC social media team headed by some of the most esteemed professionals in the social media realm. Our firm is committed in mapping out a strategic social media plan for our clients that is incorporated with the marketing and branding efforts. Our social media plans range from consulting to full campaign and management.
Our Washington DC Social media marketing service team covers everything starting from Face book to Twitter and blogs to forums. We are also familiar with the latest social media tools and have the know how to use applications to connect with potential client base.
Give us a call today and we can kick start your social media campaign today!