With our
Web Design, Development, Marketing

and Branding
services, we can take your business to the

next level.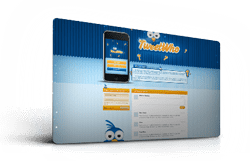 What do we do? What do our services include? We like to put it simply: we can create, expand, and manage your company's entire social media presence.
But let's get specific with each of our core services:
Facebook Business Page Marketing/Management

Want people to view your business and click "like"? That's what we can help you with. Because Facebook is no longer just for keeping in touch with old friends, it's important that your business have a legitimate and ongoing presence there as a way to interact with your customers, receive feedback, and spread your budding reputation.
Twitter Account Marketing/Management

Have news about a contest, new product, or even an opening night? Twitter allows you to post links to your latest promotions, offerings, or simply interact with customers and clients instantaneously. Our marketing and management will help you expand your followers list and get in front of more customers' eyes on a daily basis.
LinkedIn Company Account Marketing/Management

LinkedIn allows your business to be hands-on in its approach to social media, including finding new talent and connecting with new clients or customers. We can help you use it effectively.
Foursquare Business Page Marketing/Management

Foursquare is at the core of combining business marketing with user-driven reputation applications, which is why it's important that your business get noticed on Foursquare. We'll help your business get noticed.
Blog Maintenance/Management

Any customer who comes to your website and finds a blog that hasn't been updated in six months will immediately be turned off; we'll help you not only avoid that problem, but enliven your blog and make it magnetic to customers.
[button url="http://www.99socialmedia.com/request-quote/" style="orange" size="large"] Contact For An Initial Audit [/button]