Targeted
Social Media Marketing

for

Dentists

and

Dental Practices.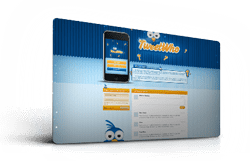 Inform, educate and get new patients through social media.


Increase ROI

for your advertising dollars.
Access a

new demographic.

Customized

online marketing solutions.
Change Perceptions through Social Media Channels
Everyone knows healthy teeth are part of a healthy lifestyle and that keeping your teeth in top condition can prevent cavities and disease. Despite this, it's hard to look forward to a dentist appointment! Challenge this perception with a dentist social media marketing plan that is customized to your practice. Imagine having the means to reach out to your patients daily to remind them of the importance of oral health care, share breakthroughs in dental hygiene, and issue reviews of new dental products. With a targeted plan that covers all aspects of social media for dentists, you can have all this – and more! When you reach out to your clients through social media, you become more than that place they have to visit to keep their teeth clean. Your practice becomes a friendly, familiar place.
Tap Into A New Demographic
Social media marketing for dentists opens doors to a new demographic. Through dentist social media marketing, you have instant access to everyone in your city that owns a mobile device. Your posts will be shared, your Tweets will be re-tweeted and the information you send to your online community could become trending topics. Gone are the days when placing a radio or newspaper ad was the best way to attract clients. These days, the savvy consumer wants more. They want to know everything about a brand including, any breaking news that affects them, and they want to know it now. 99MediaLab understands this challenge and provides a complete social media dentist strategy to reach this progressive market.
Increased ROI
Our social media dentist strategies are more than a way for you to reach a large client base. Dentist social media allows you to receive live updates from your suppliers and other industry professionals. By following product and service manufactures, you are the first to know about their new offerings, product news, and any other information that can impact your practice. That is the wonderful thing about social media marketing for dentists. The affordable investment in this targeted marketing approach yields big rewards.
How We Can Help
We know your practice is unique and that is why your dental social media marketing strategy will be designed just for you. After careful research of your practice, your competition and the industry itself, 99Social Media creates a plan that includes content posting, community management, brand awareness, online reputation management and more. Staying competitive in a demanding marketplace means using all the tools at your disposal. With our social media marketing for dentists, you and your clients will have plenty to smile about.